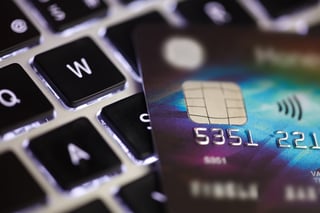 We hate to be "that" person, but we told you so. As predicted, Card Not Present (CNP) credit card fraud continues to rise since the establishment of EMV technology (chip cards) last October. CNP transactions include any payment made where the card is not physically present, online, over the phone or mobile. While card present fraud experienced a 43% decrease, according to Visa, CNP fraud experienced a direct increase. The US Payments Forum 2017 report stated that the increase in security of chip cards forced fraudsters to focus their attention on an easier target: CNP transactions. The report concluded that this trend will continue into 2018 and consumers can expect fraud dollars to exceed $6 billion.
77% of U.S. merchants are selling their products online, meaning that more and more purchases are CNP transactions. Deloitte Insights conducted a survey which found that 83% of shoppers will make their purchases online this holiday season. It's clear that CNP transactions and online shopping are here to stay this gift-giving season, so it's vitally important to educate members on how to protect themselves.
Related Article: Put Yourself in Member's Shoes During the Holiday Season
Member education is the first step to preventing card fraud. Do members know all the offerings of your credit union and card management features that can aid in protecting themselves? Be sure that you take the extra steps this holiday season to ensure that all your members are using the latest credit card security features your CU offers. Let members know of any remote-control card features they have access to, and educate them how to properly use the applications. Member remote control cards gives them the instant and direct control they need to protect their accounts from fraud. Members have more opportunity to detect suspicious activity if they have total control of their account and can place immediate holds in times where they feel their information has been compromised.
Another great tool for member education is the implementation of customized account notifications. As a credit union, it's in your interest to partner with the latest credit union technology vendors in order to allow complete integration of credit and debit card security tools. This integration limits member's exposure to third parties who could potentially be a threat to member information. By offering customized account notifications, members will immediately be notified anytime their account experiences a transaction that exceeds their set limit, giving them a chance to report card theft or fraud. Members should also be educated and aware of daily spending limits, max balance notifications and other alerts to keep track of their spending behavior.
Related Article: Using Social Media to Prevent Card Fraud
Keep members and their assets protected this holiday by ensuring that all members are fully educated. By offering the latest card management features you enhance your credit union member experience, and you can help members combat the continual rise in card not present transactions.