Credit Union eSignatures... Cause this is Thriller!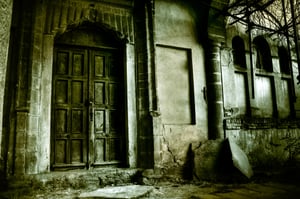 Does your credit union have a back room that conjures images of haunted houses, lined with old squeaky file cabinets filled with paper documents? Is it the kind of room employees are afraid to visit, with cobwebs and the foulest stench in the air - the funk of 40,000 years? At this stage in the digital banking era, these cabinets are no thriller and should be set aside for your Halloween fun-fest. It's time to significantly cut back on your paper reliance and join the modern world. Digitizing the lending process, as well as your other operational processes, can create efficiencies for both your members and your credit union.
It's hard to imagine how a need for a signature can be an obstacle to a financial institution's growth. However, when you consider how many times a document can to be held up to wait for a signature before being moved to the next step, it's easy to see how the inefficiencies can add up.
Technology has made our life easier in many ways, and banking is no exception. Fintech developments have provided us with efficiencies such as eSignatures, eReceipts, and Remote Deposit Capture to name just a few. In offering these to your members, you will not only be providing them with the latest in technologies and conveniences, but also making your credit union competitive and relevant. Electronic signatures help prevent the headaches and hassles of getting documents signed, while giving you more time to focus on your members and their needs.
One of the biggest benefits of digitizing your in-house paperwork is the expedited submission of loan applications and closings, along with a variety of other transactions that once required a physical signature, but can now be completed electronically in half the time using eSignatures. Some other benefits to consider when looking to adopt eSignatures and move towards an overall paperless environment include: the reduction of document errors, improved compliance and security, the overall cost savings to your credit union, and offering more cutting edge technology to your members.
According to Ombud Open Research, organizations that use electronic signature solutions save an average of $20 per document and reduce turnaround times by 80 percent. Electronic signatures help you save money, while also giving you more time to find opportunities to grow.

Most importantly, and not to be discounted, is an improved member experience. With loan applications being completed online and returned within 24-48 hours, loans are closing faster than ever before. Streamlining the decision process can lead to more profitability and a bigger loan portfolio for your credit union. One credit union in Louisiana even found themselves initiating and completing loan paperwork at some very non-traditional locations outside their credit union. They found they were able to take this technology, and using a mobile phone, laptop or iPad, acquire new members, loans and accounts digitally while they hosted community events and educational seminars. And it's been a success in other ways too, as they found themselves to be averaging a 71% closure rate on these remotely signed documents and loans. They also began to use eSignatures in their collections area to offer members needed modifications and loan extensions to help resolve issues in a more efficient manner.
So, if you haven't already done so, the midnight hour is close at hand, and it's time to embrace digital eSignature technology within your credit union. You will experience greater efficiencies and increased profitability, stay competitive and ultimately flourish. For no mere mortal can resist... the ease of eSignature.