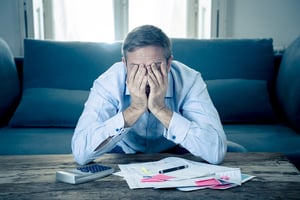 This global situation is forcing all businesses to make some drastic changes that only weeks ago they wouldn't even consider, and credit unions are certainly not immune. Pending debt is a major topic of concern as more people are struggling to keep their jobs and employers make hard decisions necessary for the continued health of the business. It's a time that requires both shrewd business calculations but also compassion. Part of the credit union difference is a human connection, so that compassion is a call they need to heed. To that end, the NCUA issued guidance encouraging credit unions to work with affected borrowers. One of the suggestions to help is to allow members to defer or skip loan payments, in particular those for open-end credit, like credit cards.
There are certainly contractual issues that can arise here, so it's important to do your due diligence as a CU and assess whether your current credit agreements state terms in regards to payment skipping. If there is no language to that effect, a new separate agreement will need to be executed to ensure all parties agree to the new terms, including just how many payments the member can skip.
The next question to consider then is whether there is a fee assessed should the member opt to skip a payment. To assess the fee or not to assess the fee during these unprecedented circumstances: This is going to be a call the CU needs to make.The NCUA suggestions include allowing a penalty-free payment skip. Neither this, nor the option to skip, is a "gift", but a commitment to the long-term relationship with the member. While financial institutions were the source of the last crisis, they can be part of the solution of this one.
Core options to help you make the adjustments that are right for your CU
Check with your core processor and see if their technology allows you to advance loan due dates. Some of the more sophisticated solutions allow for this action based criteria, such as the following:

Loan Type
Payment Type
Open/Closed End
Current Due Date (to/from)
Number of Frequencies

Minimum Due Date or Set Due Day to Include Delinquent Loans

Grace Days
Additionally, the more innovative credit union core vendors offer even more robust loan modification suites. Features such as Skip-A-Pays, Rate Changes, Reduce Payments and Troubled Debt Restructuring (TDR) will come in handy the next several months.
FLEX's Advancing Loan Due Date and Loan Modification options provide automation for your staff, removing the need to manually adjust individual loans by member. Download our eGuide below, which will provide more information on these features and how FLEX automates these processes for your credit union.