How Can Credit Unions Use Digital Avenues to Drive Member Growth?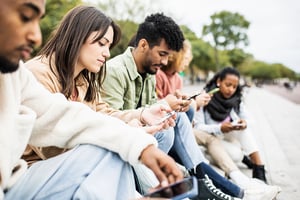 Today's credit unions face a unique set of challenges as member growth has consistently declined since 2018. To further compound this problem, the average credit union member age in the U.S. is 53, which means they are or have already exited their prime borrowing years. Together, these two statistics underscore the importance of attracting younger members.
However, the intergenerational transfer isn't occurring as most expected—with older members referring their adult children. According to a recent survey, a mere 9% of respondents referred their credit union to their children. Instead, it's imperative for credit unions to proactively meet younger members where they are on Facebook, Instagram, and other social networks.
Social media represents a viable opportunity for your credit union to engage younger members on their turf and evolve the relationship beyond loan rates and account numbers into a more personal realm. We've outlined a few quick tips credit unions can use to engage younger members on social media to drive growth.
Understand the Importance of Video
If a picture is worth a thousand words, a one minute video is estimated to be worth 1.8 million words, according to Dr. James McQivey of Forrester Research. Whether it's a simple credit-building video or a video explainer on complex financial topics, videos can position your credit union as a trusted resource. This way, when potential members need a new auto loan, credit card, or home loan, your credit union will be optimally positioned and top of mind.
One powerful category of video that should be in the mix are member success stories. They offer an unrivaled glimpse into the amazing experience members can expect from your credit union, which segues into the power of social proof.
Social Proof Is the New Word of Mouth
Social proof is the new word of mouth. Consider that in 2020, 97% of consumers checked out reviews prior to making a purchasing decision, according to a 2018 PowerReviews study; and 79% of consumers put as much weight on online reviews as they would personal recommendations, according to a 2020 BrightLocal survey. Because older members aren't referring their children as expected, social proof can serve the same effect. A few targeted strategies include:
Feature real member testimonials on social media networks. Doing so in video can amplify the effect.
Share success stories on social networks to demonstrate the superior member experience.
Make a concerted effort to generate reviews via Google, Facebook, Yelp, and other platforms.
Consider using

influencer marketing or ambassador initiatives

. It's estimated businesses earn $6.50 for each $1.00 spent on influencer marketing, according to a poll from Tomoson.
Leveraging social proof can position your credit union in the drivers seat and help transition younger consumers into members.
Employ Custom Landing Pages to Drive Social Media Conversions
Whether you're running a paid social media campaign for a special auto loan rate or organically promoting an event, the destination can be as important as the offer used to garner the click. Simply put, if someone clicks a link about a special loan rate, they shouldn't be expected to search through your site to find the offer. Instead, the best solution is to create an intentional, well-designed landing page designed to drive conversions.
Evolve How Your Credit Union Engages & Serves Members with Digital Transformation
Amid the uncertainty of COVID-19, it's important for credit unions to evolve how they attract and engage younger members. Part of this strategy may include social media, while the other part must revolve around delivering digital experiences younger members want and expect. This highlights the necessity of digital transformation.
Download our article from the 2022 Callahan Supplier Market Share Guide to learn how digital transformation must be the new framework for your credit union.