10 Fast Facts about the Credit Union Industry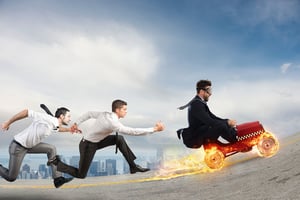 Credit unions often carry a reputation for being too small or not providing the same range of services compared with bigger financial institutions. However, credit unions are a $1.4 trillion industry and they are aggressively competing with their counterparts in the banking industry by offering products and services members are demanding.1 Credit unions have made huge strides to become competitive with banks, and offer a wider variety of members services than one might expect. Here are 10 fast-facts about credit unions that may surprise you:
The number of small credit unions is shrinking, while the mergers are increasing and larger credit unions are succeeding. In 1994 there were only 13 credit unions exceeding $1 billion in assets... now there are 304.

1

Despite a decreasing number of credit union entities nationwide, many states have witnessed tremendous growth in member base. Wisconsin, for example, has seen a 40% growth in members since 2007

.

5

The first quarter of 2018 numbers have been posted and member growth hit 4.3%, bringing total membership to 112.7 million Americans, according to CUNA. This is the seventh consecutive quarter the credit union industry has posted member growth of 4% or greater!4
Auto Loans have been a great source of growth for CU's. A record 20.2% of members used a credit union to buy a car in the first quarter of 2018. That's up approximately 1.5 percentage points from one year ago.4
On a related note, the industry posted its highest consumer loan market share since before the Great Recession, at 13.2%.4

Mobile banking is continuing to be the hottest button for members. According to a study by CFI Group, bank customers were 86% satisfied with the mobile banking features their bank provides, while credit union members rated their satisfaction at 90%.

2

CUs who leverage digital lending have seen huge success. In one example, a credit union out of Illinois, six months after revamping their mobile lending platform, achieved an impressive 85% of their loan volume originating from their online and mobile platforms.

3

Mobile lending is popular even in business lending. Over the past 5 years, 61-64% of small business owners looking for funding received it through an alternative lender, which is classified as a non-bank entity, such as credit unions.

6

By 2025 online lending is estimated to be a $200 billion industry, and as of now, 56% of digital small business loan applications are submitted through mobile.

6


Loyalty programs are another hot button in the industry, so much so that members are willing to pay for them! A growing number of members (37%, up from 30% in 2017) are willing to pay a fee for access to enhanced loyalty program benefits.

7

Members are looking to use their mobile banking platform for all aspects of business with their credit union, including loyalty programs. 85% of loyalty program members who have redeemed with their mobile phone say their experience was improved by that technology, while

97% of Millennials say they would actively engage with loyalty programs if they could access their rewards information from their smartphones.

7
Let's face the facts - it's easy to see that credit unions have a large potential for growth given the right focus, and can better compete with big FIs for business. In the coming years, we will see credit unions continue to embrace digital solutions like loyalty programs, mobile banking, and digital lending that will help drive new members to credit unions and increase satisfaction within the existing member base.
1. https://www.aba.com/Advocacy/Issues/Pages/credit-union-analysis.aspx
2. https://money.usnews.com/money/blogs/my-money/2011/03/01/8-facts-you-should-know-about-credit-unions
3. https://thefinancialbrand.com/73490/credit-union-digital-lending-tool-loan-growth/
4. https://www.creditunions.com/industry-performance/#ixzz5O54xnxxv
5. https://www.jsonline.com/story/money/business/2017/09/30/credit-union-membership-growing-wisconsin-hits-3-million-milestone/716481001/
6. https://cunacouncils.org/cuna/assets/files/134323_MobileLendingLandscape-CUNALendingCouncil.pdf
7. https://blog.accessdevelopment.com/2018-customer-loyalty-statistics