Unlocking Doors: How Credit Unions Can Ease the Struggle of Home Buying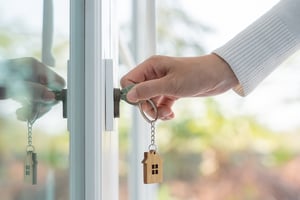 To say that buying a home today is a challenge is an understatement. This is especially true if you're a first-time homebuyer.
Not only are people dealing with low inventory, but scarcity—coupled with record-high interest rates—has made the prospect of purchasing even a "starter home" seemingly out of reach for many. The process gets even more complicated when you start to think about saving for a down payment, having a low credit score, lots of debt, and more.
Thankfully, this is another one of those opportunities for credit unions to step up, be of service, and help support their members through the intricate process of home buying. All credit unions have to do is remember a few key things along the way.
In This Article, We'll Cover...
What is Going on in the Housing Market?
Home Prices: average housing prices jumped $50k during the pandemic, but the prices haven't fallen even with high interest rates.
Interest Rates: the Federal Reserve has raised interest rates 11 consecutive times. Interest rates are higher now than they have been since 2001.
Housing Supply: The supply of affordable houses is lower than the amount of people who want to buy.
Top 3 Challenges to Home Buying
Challenge #1: Many Believe Home Buying is Unaffordable
Many people, especially first-time homebuyers, believe that with current prices being what they are, owning a home is simply off the table for the foreseeable future. They may believe that it is impossible to come up with a down payment, for example.
In reality, credit unions can help educate them about the myriad of different options available. This includes FHA loans, VA loans, USDA loans, and any loans that your organization may offer on its own that could be an appropriate fit given the circumstances.
Challenge #2: People Don't Know Where to Begin the Process
Due to the inherent complexities of buying a home, many people enter into the situation overwhelmed from the start. They're not even sure where to begin their dream of homeownership.
This is another opportunity for credit unions to shine. You can offer access to educational resources like workshops, seminars, and even one-on-one counseling to help people understand buying a home, mortgages, and other complicated topics.
Challenge #3: The Process is Frustrating and Overwhelming
Even if someone does find a home they want, they often see the process itself as equal parts time-consuming and frustrating. Credit unions can help ease that burden by incorporating modern technology and digital services in a way that makes things faster and more efficient. Help homebuyers get their finances in order quickly to avoid potential roadblocks later on.
Based on the fact that you know people are interested in buying a home, you can also use it as an opportunity to cross-sell and up-sell related services that you know they will be able to take advantage of.
Building Lasting Relationships Through Exceptional Home Loan Servicing
At FLEX, we understand that the current home market (and the challenges within) represents a unique opportunity for credit unions to help their members in a bold new way. In fact, we've recently authored a new FLEX Mortgage Servicing eGuide that goes into more detail about all this and more. We hope that credit union professionals will find it invaluable, allowing them to explore our mortgage servicing solutions to continue their goal of offering comprehensive support in addressing the unique needs of homebuyers today. To download your copy, click the button below.