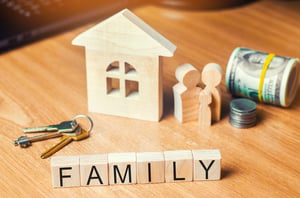 Throughout life there are situations - life events - where money plays a significant role in the decision-making process, and a positive resolution is dependent on the availability of funds. In certain cases, where the resolution requires more money than what may be available, an already stressful situation can feel frustrating and overwhelming. But what if a financial institution knew their member personally, and was willing to take a look at special situations to see if they could lend a hand (or money) to assist that member? Take a chance on a member with a long standing history and make a difference to them? This is the embodiment of the Credit Union Difference.

Credit unions have long prided themselves on having personalized relationships with their members, sharing affinities based on education, occupations and the community. Recently, some credit unions have been going above and beyond in their traditional lending practices when looking to meet some of their members' financial needs. They have started offering smaller, more express and niche-type loans, often stemming from the needs within the community it serves. These smaller loans, while not typical, are creating positive results; building both loan portfolios and member appreciation and loyalty.
A recent article from creditunions.com outlined some of the more unique lending strategies being offered to members at a growing list of credit unions. Lending strategies were implemented after a need was identified within their community and member base. Loans were granted for life events such as adoption, the path to citizenship, environmental initiatives, and to help meet the needs of a union worker just joining and learning their trade. Some CUs have even begun to offer an alternative for those dreaded payday loans, where the borrower usually has no viable alternatives and is stuck paying a huge amount of interest and fees.
A credit union in Minnesota, for example, is offering adoption loans that range from $5k-$45k, designed to off-set and cover the large expenses that can sometimes occur with adoption. They have a 2 year draw period, because, as anyone who has been involved in this process can affirm, adoptions often are a very time-consuming process. In this unique program, upon adoption, the child is presented with a $500 savings account! This is yet another example of going above and beyond member expectations, not to mention creating a future member for life!
In Portland, OR., an iron workers' credit union saw an opportunity to help some of its members who were not yet able to receive a paycheck as they were finishing up their apprenticeships and other needed tools for their trade. Some of these loans were small, designed to tide them over until they could work, and subsequently repaid quickly, knowing their peers and co-workers were part of that credit union.
Still, other examples include help financing the path to citizenship, as a credit union in Seattle has done. The CU offers money to cover passport fees and various other legal fees and have an active partnership with the City of Seattle's Office of Immigration. "The filing fee for the Application for Naturalization is $725 for an individual," Lee Pierce (of the Seattle Credit Union) says. "That quickly adds up to several thousand dollars for a family."
Other credit unions are offering quick, short term loans for members who find themselves in need of money quickly. Though the borrowers are typically a little riskier, the interest rate offered through their credit union is better than the triple-digit A.P.R.s typically offered by Pay Day loan stores... and members appreciate that.
These are just a handful of examples where credit unions have done some creative lending and thought out-of-the-box when offering lending solutions. They listened to their members' needs and offered non-traditional options for important life events. They made an impact on the lives of their members, built loyalty, and demonstrated the Credit Union Difference.