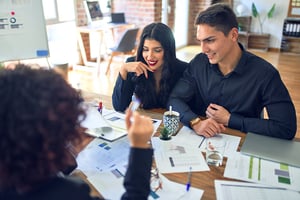 With the lowest mortgage rates in years, it's no surprise that mortgage originations and refinancings are soaring around the nation. This is good news for credit unions. However, advancement in digital technologies and the rise of fintech companies into the lending space also means that the competition in the mortgage lending market is as tough as ever.
The digital transformation of banking has forced many credit unions to reconsider their digital lending strategies and do their best to stay current with digital trends in banking. Fortunately, credit unions still have some advantages over other digital mortgage lenders. In the years ahead, how they make use of these advantages and improve their digital mortgage lending platforms will be important.
How to engage with members and improve your digital mortgage lending platform
Although the climate of lending is clearly changing, credit unions can take advantage of the things they've done traditionally well in the past to capitalize on mortgage lending in the digital age. One of the most important things for CUs to remember is that their personal touch and sense of community are what set them apart from other institutions, and that remains true to this day.
Though fintech companies are often fast and efficient, there is almost never a human being behind the experience. If credit unions can emphasize the personal touch while transitioning to more seamless and capable digital lending technologies, they can set themselves up for success in 2021 and beyond. Below are a few of the ways CUs can enhance their digital mortgage lending platform:
Establish yourself on social media: By creatively using social media, credit unions can reinforce personal connections, answer member's questions, and build lasting relationships. These days, most members want to communicate digitally across multiple channels and have their questions answered and problems solved fast. Social media can allow

your team of experienced employees

to do this. It can also be used to develop a brand and voice for your credit union. Just make sure you comply with regulatory guidelines.
Personal and professional advice: For most people, buying a home is a big deal and somewhere along the process they want their questions answered by professionals they trust. Here is where credit union member service should thrive, and through digital and traditional methods of member service, you can begin to forge relationships with members that should last

at least the length of their mortgage

.

This can extend back through social media as well--by having question and answer posts, for example, so your members know there's a human on the other end giving them reliable advice.

Social Media Ads: Social media posts reach your members, but you can broaden your audience when you advertise through social media. It's certainly cheaper than traditional advertising, and in this digital age, social media is where people are. A word of caution though: Be thoughtful in your ads. People trust helpful brands, companies they trust. If you come on too strong or too salesy, you can lose your potential new audience.
Give your members the digital mortgage lending experience they crave
The days of members putting up with fragmented, slow and inefficient digital mortgage lending platforms are gone. One way your credit union can create a seamless and secure digital mortgage lending platform that allows your employees to make the most of personal connections is by choosing the right credit union core provider.
FLEX credit union core technology has helped hundreds of credit unions around the nation enhance their digital banking and digital mortgage lending platform. In fact, it can serve as the basis of your entire digital platform for all your credit union's digital banking needs.
Download our Mortgage Servicing and Digital Lending eGuides to learn more.