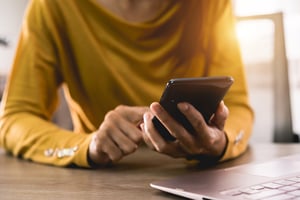 With mobile banking reaching its saturation point, credit unions now need to focus on product differentiation. It is no longer enough to just offer a mobile solution--it is now time to match mobile offerings with your member base. Remember, product differentiation is key, design excellence matters and your aim should be an incredible member experience.
Mobile app product differentiation can mean something different to each credit union, which is why it is important to know your members and their behaviors. Driving a mobile solution from within your core processing system is an important starting point that goes beyond member account access.
Mobile differentiation will include built-in options for card controls (on/off), remote deposit capture, bill pay integration, P2P integration, account-to-account transfers, statement retrieval and more.
The Rise of Biometric Authentification
As a survey taken by Business Insider shows, active mobile banking users are not only ready but are demanding biometric authentification tools to be a part of the app. At first, it might be surprising, but the "fingerprint scanner" as a way to log in is the fourth most-wanted feature among the users, and, 38% of the users would like to have that option. Quite an impressive number, don't you think?
While certain features within an app may not be used often, logging into the app happens over and over again, which makes this portion of the overall user experience extremely important. Providing multiple methods for members to log in to your app gives options for the level and type of security they wish to utilize. Some members prefer to provide their username and password each time they log in. Others may prefer Touch ID using their device's biometric touch ID sensor to verify their fingerprint. For most, Touch ID is the fastest and most secure way of logging in.
Remote Deposit Capture
Remote Deposit Capture (RDC) has changed member behavior and has transferred a routine staff interaction to a less costly channel. Considering the value of this technology, FLEX implemented RDC in 2013, allowing members to easily deposit a check from their mobile device. Using advanced image capture and detection technology, check images are validated at the time of submission. In addition, RDC cross-references other deposited items, including all in-branch Check-21, ACH and share draft data. This ensures the same check is not deposited more than once.
Remote Controls for Cards
Remote Controls for Cards provides the ability to temporarily disable and re-enable debit and/or credit cards in real-time. Locking a card will prevent any new purchases, cash advances and balance transfers. This provides a sense of security to members who have misplaced their card or suspect fraudulent activity. FLEX generates a daily report indicating all card blocks placed through the mobile app, the type of block used and the person who initiated it.
Account to Account Transfers
With Account to Account Transfers, members are able to transfer funds to other members within the credit union. Transfers can be sent in on-demand in real-time or scheduled in advance for a specific date. Additionally, members have the option to set transfers as recurring or simply as a one-time transaction.
External Institution Transfers
Help your members save time with one-time or recurring external transfers to other institutions. External Institution Transfers allow members to link their online banking account with other financial institutions outside of the credit union in order to transfer money to and from those accounts.
Push Notifications
Allow your members to be in control, all of the time. Members should have the ability to enable push notifications that utilize the device tray without having to open the app to view. These alerts can easily be set for changes to checking and savings accounts, purchases, withdrawals, balance changes, and more. Push notifications provide an easy way to configure loan payment reminders, loan activity and savings goals. Notifications are delivered directly to the member mobile device providing peace of mind knowing that all account activity can be viewed in real-time from their constant mobile companion.
FICO® Score Access
Increase transparency by providing your members with access to their actual FICO® Scores used to help make decisions. Offering direct access to FICO® Scores within your mobile app will strengthen member loyalty and satisfaction by providing tools that only consumer agencies and businesses have historically offered
Person-to-Person Payments
Make banking more convenient, simple and seamless by offering a P2P platform directly within your mobile banking app. This kind of integration provides a simple framework to enable person (P2P) payments and disbursement solutions through one recognizable consistent brand.
Bill Pay
Mobile bill pay service isn't revolutionary, but it is essential. It makes it easier for members to organize bills and pay them when they're due. If a member juggles rent or a mortgage, cable, electricity, credit card payments and more, online bill pay can save time and help avoid late fees.
Give your members a convenient way to schedule, track, organize and pay bills online in one location. With FLEX, your members can pay one-time bills or schedule recurring payments directly and securely through the FLEX mobile banking app.
Create a superior mobile banking app for your credit union
In the end, it all comes down to creating a frictionless, seamless and coherent experience for your members. The best way to ensure your app delivers that is by delivering all their banking services into one app through core system software. That way members don't have to use multiple applications, but only have to login into one app to fulfill all their banking needs.
FLEX can help you with that. Our services also feature single-point access cards and built-in support, internet and mobile banking, digital lending, eSignatures and auto decisioning, document management, overdraft privileges and other features that can bring your CU's digital banking capabilities to the next level. To help you get started, take a look at our guide to Mobile Banking. It will show you how a core-based mobile app will keep your members coming back for more: