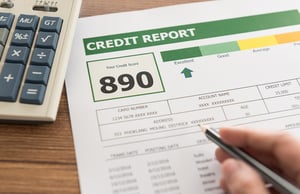 A member's credit score is only one number, yet knowing and understanding that number is very important. A great credit score leads to great deals — on loans, credit cards, insurance premiums, apartments and cell phone plans. Bad scores can limit choices or cause members to pay more. The lifetime cost of higher interest rates from bad or mediocre credit can exceed six figures! This means that helping your members know their score and how to improve it is extremely valuable. Education is key to member services, and it begins with helping members find and understand their credit score.
What is a Credit Score?
Credit scores are three-digit numbers that are calculated using the following information:
Credit Mix
How many lines of credit or loans
Credit history length
Dollar amount owed
History of payments
Things such as missing payments and applying for too many new credit cards in a short time will lower the score. A score of 700 is considered good. When they're over 760, then they're set. At this point, they should expect the best rates and terms lenders have to offer.

Where to Find the Credit Score for Free
There are many websites that allow you to check that number for free, how do you know which ones to recommend? For many years federal law allowed everyone to get a credit report for free once per year. The reports are available from each of the big three credit bureaus (Experian, Equifax and TransUnion) at AnnualCreditReport.com. But just to get the score by itself at any time was much more difficult. Now there are many ways to get this info. It's even becoming more common for this to be printed on the monthly statements or displayed within internet and mobile banking solutions.
Most online services will offer the Vantage Score which is very similar to the traditional FICO Score, but some are even beginning to offer FICO as well. Regardless of which service, checking the numbers this way does not count against the score.
Credit unions should be aware of a few competing organizations that offer free credit scores within their applications. Also, a few organizations that simply offer credit scores and a breakdown analysis:
Discover Card
Discover offers a free FICO scores for cardholders/customers.
Capital One and Chase
Capital One and Chase banks both offer programs where users can sign up for their free credit monitoring programs without needing to be a banking or credit card customer.
Credit.com
Most other providers get their data from TransUnion, while credit.com uses Experian. This is helpful to cross-check the information and make sure there aren't any errors. Credit.com also lets users set up a credit management plan and receive expert help.
Credit Karma
Credit Karma is one of the largest and most recognized services. You get a free credit report, free monitoring and free tax preparation. Information is updated daily and they will also send alerts. Another benefit is that users can look at reviews of most reward credit cards - making it easier to find the best card but also acting as a revenue stream for Credit Karma to continue offering a free service.
Credit Sesame
Credit Sesame is another well-known site. Their score is updated monthly. They also offer free identity theft protection.
So What's the Bottom Line?
It really pays to help your members keep track of their credit score and understand how their actions affect the numbers. It can make a huge difference financially no matter their age or income. The ability for members to check and monitor their own credit score has never been easier or more available. The good news is there's no reason to not use more than one of these services - allowing members to get a score as reported from all 3 bureaus.