A Smarter Credit Score Solution for Your Credit Union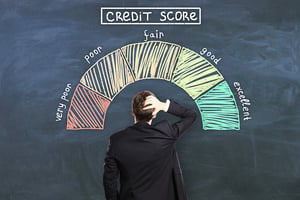 The Great Recession negatively impacted countless consumer credit scores, leaving many in a financial bind. Thankfully, credit unions (CUs) are stepping up to help people get back on their feet, offering their members a variety of credit-building services and tools--from low-priced secure loans and complimentary credit consultation to virtual debt management courses. Instead of charging high service fees, many CUs have resorted to more consultative methods. Increasing credit can be a time-consuming process requiring patience and self-control. Below, we outline four key ways your CU can begin to either initiate credit or rebuild your members' credit scores.
1. Offer Credit Builder Loans
Credit builder loans focus more on building credit than borrowing money, and more CUs are starting to include these types of loans. These are smaller loans (typically between $300 - $700) with relatively low-interest rates that members can gradually pay off over time (usually between six to 24 months) through monthly payments. Rather than distributing the money to a member, you put it into an account that's inaccessible to them as the borrower. Every time the member makes a payment, you report it to the major credit bureaus who keep a close eye on timely payments. These recurring on-time payments will slowly but surely increase credit scores with each month that passes. If you want your credit union to be a noteworthy credit-building resource, adding these types of loans to your marketing campaign can benefit both your CU and your members.
2. Propose Free Credit Counseling
Some members will automatically enter your credit union with varying financial management needs, ranging from desperate to average. Make sure to advertise and alert your members of opportunities to meet and discuss cash flow analysis and specific financial management techniques that would help them understand their financial situation.
Whether you're counseling via phone call or in-person at your branch, providing members with a comprehensive snapshot of their financial standing and offering advice is bound to eventually lead to rising credit scores. In addition, credit counseling can help members pay off their debt faster, build savings, and help them develop a solid plan for their future.
3. Provide an Assortment of Credit-Building Tools
Knowledge is power. So, naturally, making free online resources readily available will also be a surefire way to help members boost their credit and become better stewards of their finances. These resources could include things like e-Books, credit-related blog posts, information hotlines, debt payment tools, and online financial management courses. Some can even include platforms like our partner, SavvyMoney, that allow users to conveniently access score updates, credit alerts, monitoring, and instant offers within online banking.
When you provide tools to build credit, you're empowering your members to rise to the challenge. And with member empowerment comes an increased chance of improving member retention and instilling a sense of respect and appreciation in your members in regards to your service.
4. Promote Secured Credit Cards to Institute Credit
When you're dealing with members who haven't established credit or have barely started, they may be denied after applying for other credit cards. In these cases, a secured credit card can be a viable option. Those with poor or fair credit scores can benefit from these types of cards, as they can obtain one by paying an up-front security deposit. They make purchases using pure credit rather than cash (like with a prepaid card) and each payment is reported to credit reporting agencies, which can establish and boost credit over time. Informing your members about these secured credit cards is a step in the right direction for certain members struggling to achieve good credit.
Take Advantage of a Smarter Credit Score Solution
As a credit union, you have a special opportunity to support your members by guiding them toward a better credit score. Offering credit builder loans, complimentary credit counseling sessions, providing credit-building tools, and advertising CU credit cards are great ways to get members back on track.
At FLEX, we've partnered with an award-winning fintech company, SavvyMoney, which provides integrated credit reports and scores for financial institutions via online and mobile banking. This partnership allows us the opportunity to help credit unions gain full access to member credit score trends, wallet share, targeted lending campaigns, and more, while also giving members the ability to receive insights on their credit score, download reports, and even benefit from pre-qualified loan offers.