P2P Payments Market Shows No Sign of Slowing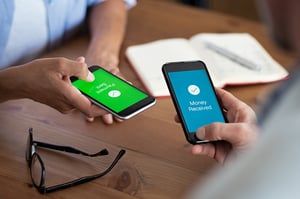 In the closing months of 2019, there were several reports released that touted the current and projected growth of the peer-to-peer (P2P) payment solutions market. Solutions like Zelle, Apple Pay, and Venmo were overwhelmingly increasing in adoption by consumers. There were high expectations and we have no doubt they were accurate. But, in November of last year, we had no idea what 2020 had in store.
P2P Projected Growth
Take a look at these strong predictions: November estimates showed that P2P mobile transactions would total $309.95 billion in 2019, and were estimated to grow 27.9% to hit $396.48 billion in 2020. The number of P2P payment users was estimated at 69.2 million users in the US, rising to 73.8 million by 2020.
But now look at these actuals: In the first quarter of 2020, Venmo's net payment volume amounted to $31 billion, representing a 48% year-on-year growth. Zelle, the P2P payment provider owned by seven of the biggest US banks and used by credit unions nationally, similarly reported strong second-quarter results, with payment value growing 56% to $44 billion, and the number of transactions growing 71% to 171 million. If you consider the growth in this market, it's clear that P2P payment options are here to stay and a highly-desirable feature for users.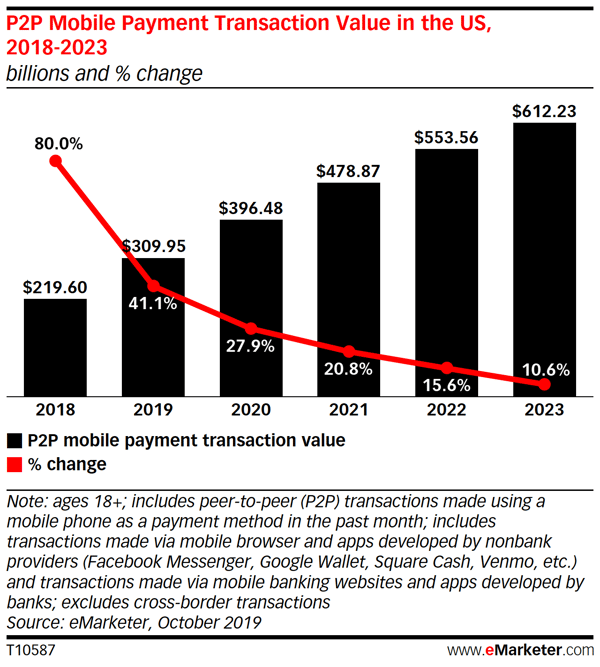 P2P Demographic Shift
Numbers aside, it's important to consider who (or what) is behind this growth. Let's consider the who first. In 2018, mobile phone P2P payments users in the U.S. amounted to more than one-third of all mobile phone users. It is now predicted that over half of all mobile phone users will be acquainted with P2P transactions by the end of 2022.
But let's look more closely at those users. In 2018, Early Warning Systems, the creator of Zelle, estimated that Millennials would be their biggest early adopting consumer segment. Nearly half of millennial smartphone users in the US received and sent money via P2P payment options at least once a week, and they are widely recognized as one of the most tech-forward generations.
What those estimates failed to account for was that by providing P2P digital payment options through a smart phone, in combination with the provider being a trusted credit union, the older generations were much quicker to join in. While they like convenience as much as the Millennial, they may be hesitant to trust a standalone app like Venmo. When the app was provided by their credit union, they felt their transactions were more secure and ultimately their adoption grew quite quickly.
What No One Saw Coming
And now let's consider the reason behind the popularity in P2P payments in 2020: Coming into 2020, we knew the industry was on a major growth trajectory, but then came the pandemic--driving the people of the world into their homes and them doing everything they could to limit contact with the outside world. The numbers aren't available to us yet, but we think it's fair to say that P2P payments were just catapulted past any estimates we could have had eight months ago. The adoption curve was forced forward and those that were once wary of mobile payment options are now seasoned users.
Adopting P2P Solutions Is Unavoidable
Credit union adoption of P2P mobile payment solutions, like Zelle, has moved from a nice-to-have to a must-have. Zelle provides an innovative, mobile-first payment platform that can add a better member experience, while reducing check and cash management expenses for CUs. Offering Zelle via a native app, as FLEX does, also gives members, of all ages, the peace of mind that their transaction is being handled by a partner they trust. Getting your credit union on board with mobile payments this year will ensure you don't get left behind the curve.
Download our Zelle Integration eGuide to learn more.