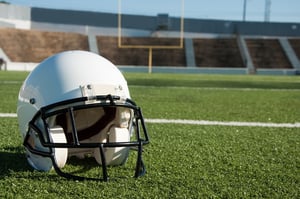 Any given Sunday, the NFL delivers surprises, but nobody expected the surprise that Buffalo Bills' Vontae Davis delivered mid-game during the Bills eventual loss to the Chargers. Davis came to the realization that he "shouldn't be out there anymore," pulled himself out of the game, changed into street clothes and left the stadium, later announcing his retirement from football. Davis knew he was struggling physically after ten grueling years in the professional level of the sport, and decided to "walk away healthy than limp away too late." While his timing is being questioned by teammates and fans alike, there is no doubt there is a lesson here that's applicable to all of us. Knowing when to say no to a member that becomes more harmful than beneficial is a key, but difficult, skill for credit union executives to master.
In a recent article, If Everyone's a Superhero, No one's a Superhero, we discussed how it might not be wise to treat all members equally, and that different members warrant different treatment at different times. While this article focused on identifying factors and attributes of a member that demands these different levels of member service, this Davis' on-field retirement reminds us that there are some instances where the struggle to keep a member is no longer worth it.
If you don't have difficult members then you are either living in a fantasy world, or you have not spoken to your front line in a while. Surely a few members' faces and names are coming to mind right now... the ones that make you cringe when they ask to speak to you, as they seem to always have a problem. Perhaps you even joke about them internally, fighting over who has to handle their next issue.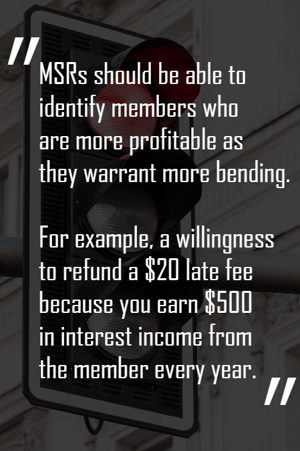 Are they coming in to complain about a late fee and ask for forgiveness? Are they the type more apt to blame their own mistakes on the closest Member Service Rep? Do they get irate and treat your employees rudely, or do they prefer to deal only with the manager?
Member Service Representatives (MSRs) should be able to identify members who are more profitable as they warrant more bending... for example, a willingness to refund a $20 late fee because you earn $500 in interest income from the member every year. A member with low profitability and consistent fee waiver requests may be more trouble than they are worth. If they belittle your MSRs with their entitled attitude, and do little to your bottom line, standing your ground on policies and preserving employee retention is warranted. For small credit unions, you may know these people by name and identify them with little thought. For larger credit unions, be sure to arm your MSRs with the technology that makes it possible to identify these troublesome members.
"Community Status" is an attribute to consider when dealing with members - are they someone in your community that people respect, who will be apt to publicly air their complaints and taken seriously by their peers? More than likely, it becomes clear that the issues you are having with a member go beyond a personality conflict - if they are rubbing people the wrong way no matter where they go, the negative press you get may be ignored or short lived.
As a credit union executive, it is of the utmost importance that you are confident in your actions and you can back your decision to say no to a member with facts, using readily available data from your credit union's core software that proves they are not a profitable member or have a history of trouble. Davis released a statement shortly after the controversial actions with confidence, saying he was at peace with his decision, himself and his family. He never apologized for his actions but pointed to the facts of what led him to such a drastic departure. Whether or not you agree with his approach, nobody can argue the decision to walk away is never easy, but sometimes the information leading to the action is very clear.