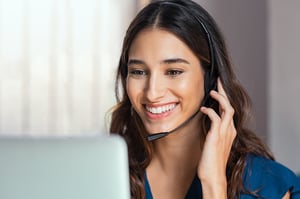 The digital banking revolution has begun, and Member Service Representatives may feel like a casualty of war. It's tempting to think that there's no longer a need for Member Service Representatives. After all, questions can be answered easily online or using a chat window, transactions performed with just a few clicks, and information about products is readily available. But consider this: Who is responding to your member in that chat window? Who will assist your member when a transaction goes awry (heaven forbid fraud!), or if they have specific questions about which loan product might be best for them? Answer: A much needed Member Services Representative.

According to the Bureau of Labor and Statistics, jobs in the field of customer service, including MSRs, will grow by 10% by 2024. That growth is faster than the average for all occupations, putting an additional 252,900 jobs on the market. So the need for quality Member Services Representatives is still very much there.

However, the role has expanded considerably from what it once was. Let's take a look at the responsibilities of an MSR and their evolving descriptions:
Interact with Members: The primary responsibility for any Member Service Representative role is taking calls and greeting members as they enter your CU. They listen to member requests and find answers. They transfer members to the appropriate office, or assist them themselves. While these interactions may lessen in frequency in person or over the phone, digital banking will introduce a new first line interaction medium in the form of chat windows. Sophisticated chatbots can handle basic questions should your credit union choose that route, but only up to a point. Members will need human interaction to handle the more complicated questions. It's becoming more common for many credit unions who elect to use online chat to still employ an MSR to handle the incoming questions over what could be perceived as a "cold response" chatbot.
Investigate and Resolve Complaints and Concerns: Along the same lines, MSRs are not only a friendly face to answer questions and greet members, but they are also the first line of defense when an irate member has an issue. When faced with member complaints, Member Service Representatives work to provide a solution. They interact with internal resources to identify the issue, respond to concerns and follow up with a satisfactory resolution in a timely and efficient manner. It can be argued that the impersonal nature of digital banking could lead to even more member complaints that will need to addressed. Perhaps the role of MSR needs to evolve to take on more technological responsibilities, becoming a tech help desk in many ways. Training for this role will inevitably change, as will the skill set required for new hires.
Provide Information: Member Service Representatives are responsible for providing ongoing education and information to members in regards to the credit union's offerings and processes. The role must therefore require one to have a deeper technical understanding of the digital banking solution, and MSRs must be prepared to take on the role of educator when it comes to walking members through how to use their systems.
Process Transactions: Credit unions exist still today because of the Credit Union Difference, which is a more personalized approach to banking. Member Service Representatives currently process and audit transactions, including deposits, withdrawals, transfers and payments. For many members, and for certain types of transactions, no matter how digital your solution becomes, there will still be a need for an in person experience.
Cross-sell Products: MSRs know your members better than anyone in your credit union's operations. While assisting members, Member Service Representatives must make an effort to recommend and cross-sell products and services to meet their member's needs. They need to have a working knowledge of these services, and must be able to demonstrate to a member how to use the new service. Communication becomes critical not only in person or over the phone, but written communication in chat windows and emails.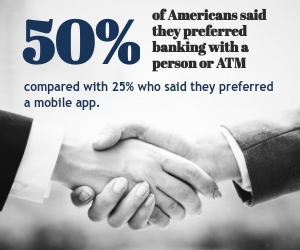 Though your members no doubt appreciate digital banking conveniences, there is still no replacement for the human interaction a Member Services Representative provides. According to an online survey conducted by Go Banking Rates.com, nearly 50% of Americans interviewed preferred banking in person compared with 25% who said they preferred banking with a mobile app. That connection is important, especially when a problem arises. The role has evolved from more than just a friendly face behind a glass partition who can deposit your paycheck. In this digital age, true face-to-face time comes at a premium. When a member visits their credit union, it presents an opportunity to not only assist the member, but also increase business and create a lasting impression. MSR's must be able to execute a full array of services, including fraud resolution, password resets, budgeting advice, knowledge of on-line tools, and helping with traditional loan and savings plan products.
In the first quarter of 2019, the average member relationship was estimated to be valued at $19,147, an increase of $561. With this growth in business, and a growing member base, it's even more important that your MSR has a working knowledge of everything that your credit union has to offer, especially an understanding of your digital technology. They will need to wear many hats, including marketing, and continually look for opportunities to expand upon existing member relationships.
MSRs are still the face and voice of your credit union, providing answers, information, and solutions. A great MSR is an asset and a true representative of your credit union, who works to create that positive member experience and demonstrates the Credit Union Difference. They should not fear for their jobs in the face of this digital banking revolution, but, rather, be open to change and growth, and embrace it! Viva la revolucion!