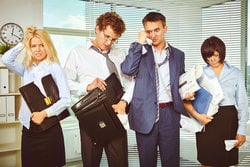 When welcoming new members into your credit union, your goal is to make an outstanding first impression, ensuring they feel confident that their Member Service Representative is someone worthy of their trust. Research has shown that trustworthiness and confidence account for 80 to 90 percent of first impressions.1 The tricky part is it only takes 3-5 seconds to make that first impression, so most of the work that goes into conveying these traits isn't actually accomplished in the meeting, but in your MSR's presentation, appearance, and efficient systems and resources to support their work for opening credit union new accounts.
What is Image Management?
According to the Image Consulting Business Institute2, Image Management is "the ongoing, pro-active process of evaluating and controlling the impact of your appearance on you, on others, and the achievement of your goals." Image Management does not require you to be a runway model in high-end expensive clothing, nor does it require you to spend beyond your means to drive a luxury car. Rather, it is demonstrating pride in yourself by your appearance: ensuring your clothing is clean, pressed and appropriate. If your hair looks like you just got out of bed and would rather not be at work, members can sense this and get the impression you would rather not be helping them. A smirk or look of confusion on a face is immediately detracting from trustworthiness. If there is something negatively distracting about your appearance or presence, this can erode the level of confidence your new member will have when opening a new account.
The Importance of Confidence
We have all had "those" days - perhaps the best choice outfits are at the dry cleaners or you are a victim of a legitimate bad hair day. The trouble is, if we become distracted by those insecurities, that lack of personal confidence will be seen by members. While appearance is important, it is not the only source of confidence we can rely on. Self-confidence also comes from other influences, such as having knowledge and understanding of the products you provide as part of your credit union Member Services. A well dressed, smiling associate may give a positive first impression, but that can quickly diminish if they start to fumble over common industry terminology, or demonstrate a lack of understanding of the member's needs.
Don't Overlook Training
Training is also an important part of instilling confidence in your staff and setting them up to be successful. Credit unions should ensure that they are supplying MSR's with the tools and resources they need to answer member questions and position products appropriately. Staff members who open accounts should be trained on the systems required to establish new members. Whether you employ a train-the-trainer approach or invest in training services offered by your technology providers, it's important that your employees have confidence in their abilities to navigate the systems required to interact with your new members.
Implement the Right Technology
If your employees are spending extraordinary amounts of time trying to navigate your credit union core processing system in order to perform simple functions, it will impact the confidence and trust your members have in your institution. An overly complicated user interface or multiple non-integrated, third-party processes required to open accounts will slow down account creation. Contrary to popular belief 73% of new accounts are still opened in branch3. Before you invest in online and mobile new account technologies, ensure that the in-branch experience is firing on all cylinders. The time and money you spend on implementing new account technology should go first to the areas where you see the most traffic.
The truth is, a poor credit union data processing system will slow down an advanced new accounts platform, no matter how robust it is. Credit union core system efficiency is at the heart of operational direction and success, and will aid the process of giving your employees the confidence they need to make a lasting first impression. "The first rule of any technology used in a business is that automation applied to an efficient operation will magnify the efficiency. The second is that automation applied to an inefficient operation will magnify the inefficiency." - Bill Gates. If you feel your new accounts process is inefficient, you might want to consider the cause. Download our eBook to learn how FLEX will improve your new accounts efficiency.


1. http://www.forbes.com/sites/lisaquast/2013/09/09/5-tips-to-create-a-positive-first-impression/#411019b42fc1
2. http://www.imageconsultinginstitute.com/image-soft-skills/what-is-image-management/
3. http://aitegroup.com/report/us-trends-checking-account-opening