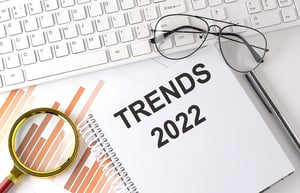 The world of payments is on a fast-paced roller coaster to an all-digital destination. The already speeding locomotive received a jolt of energy via COVID-19, which further increased the demand for digital, online, contactless, frictionless, and speedier payments. While most generations show an interest in digital payments, it comes as no surprise that the largest push is being generated from the rear.
Consider this: it's estimated that 33% of Generation Z have never written a paper check. This statistic alone explains why it's more important than ever for credit unions to embrace innovative payment trends as they arise. And there are many! In this first part of a two blog series, we'll be investigating three payment trends that credit unions should know about in 2022.
The Ease of Peer-to-Peer Payment Solutions
Regardless of the generation, everyone has performed some iteration of peer-to-peer (P2P) payments. It has, however, evolved from the physical person-to-person exchange of cash (or check) into a just-as-instantaneous digital transaction. P2P payments enable your members to efficiently and quickly exchange funds for everything--from paying rent to splitting a dinner bill. Popular P2P payment providers include Venmo, PayPal, Cash App, Google Pay, Apple Pay, and Square Cash.
It's not just consumers who are sending payments. Businesses began adopting Zelle in 2021 for various use cases, driving a 162% year-over-year increase in payments sent by small businesses. In the end, the total payment value doubled those of the closest P2P competitor. Because of its widespread adoption, Zelle has become the preferred P2P payment provider for an increasing number of banks and credit unions.
Cards Are Still King
Even though growth exists via mobile and digital wallets, consumers tend to prefer innovative contactless cards to this mode of payment. In other words, credit and debit card transactions are still kings. One reason for this condition may be the shifting tendencies and behaviors of consumers due to the pandemic. Specifically, the pandemic has prompted consumers to shop for groceries online where contactless and mobile payment options are not available. In the end, credit unions can capitalize on this trend by continuing to offer debit and credit cards enhanced with contactless capabilities.
Buy Now Pay Later
As a modern take on old-school layaway, Buy Now Pay Later (BNPL) allows consumers to purchase and receive the product or service while making payments over a set period of time. Experiencing tremendous growth, BNPL transactions are projected to reach $995 billion by 2026, according to a recent Forrester report. While BNPL isn't necessarily a new product, the difference is how the service is being offered and who is offering it. Instead of a retailer suggesting a customer apply for a store-branded credit card, many companies are using third-party companies—such as PayPal, Afterpay, Affirm, or Klarna—as an online checkout option.
Embrace Emerging Digital Payment Solutions with FLEX Core Processing Technology
As innovations in digital payments continue to take root and reshape the landscape, it's more important than ever for credit unions to offer members in-demand solutions. However, continually attempting to chase the latest innovation can turn into an expensive game of "whack-a-payment method" where your credit union is always a day late and a dollar short. To help you get started, FLEX can help you with a full-service card management solution directly within the core system. Take a look at our eGuide!
Looking for more payment trends reshaping the financial services landscape? Part Two of this series will uncover more payment trends credit unions should consider offering members.