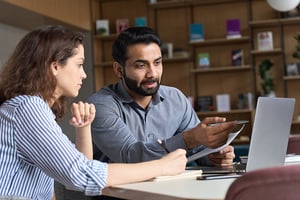 Traditionally, credit unions haven't been considered digital innovators. Instead, credit unions are notorious for delivering a personable, in-person, in-branch experience to sustain member loyalty and build trust.

Today, however, everything is different. As digital-only fintech firms and major banks pour money into technology to apply external pressure, it's imperative for credit unions to develop value propositions around innovation. While credit unions may not be first adopters or innovators (in the traditional sense), they are fast followers. Let's take a closer look at three top emerging payment trends credit unions should be following and paying close attention to.
Embedded Finance Isn't a Buzzword
Embedded finance has a projected market value of more than $138 billion, which moves it well past the fad phase: it's the future. Also called banking-as-a-service (BaaS), embedded finance explains the use of financial services or tools by a non-financial provider. It's designed to streamline processes for consumers and simplify them getting the services they want and need.
For example, the Starbucks app was launched in 2011 for customers to store cash and earn rewards for purchases at the popular coffee shop. Today, 25% of all Starbucks transactions in stores across the U.S. occur via the app. In fact, Starbucks holds as much cash in the mobile app and on its cards as some banks have in deposits.
While many financial institutions see embedded finance as a disruptor to current relationships, it can represent a tremendous opportunity. According to research from Plaid and Accenture, embedded finance can help your credit union:
Build new partnerships.
Create new revenue streams for your credit union.
Re-arrange relationships
Reestablish competitive ecosystems
The task at hand is to think outside of the box to develop innovative ways to utilize this emerging trend.
Contactless Payments Are Making Major Contact
Over the past few years, U.S. consumers have been migrating to contactless payment methods in droves, even surpassing mobile wallet use. Faster than swiping or inserting a card, tapping a lightweight card is also easier than having to dig a phone out of a purse or pocket to unlock it to verify identity.
For all of these reasons, contactless payments are catching on in the U.S. According to a Visa earnings call on January 27, 2022, almost 20% of all in-person debit or credit transactions in the U.S. are contactless, while 45% of in-person card transactions in New York City checked this box. It's about time the U.S. caught up with the global community.
Because of the increasing demand, credit unions that offer members contactless cards stand to deepen relationships with existing members and attract new members in the process.
Evolving from Contactless to Frictionless Payments & Finance
Frictionless payment and shopping refer to an experience that utilizes data from devices, apps, or websites to simplify purchasing and processes for members. One popular application of frictionless payment is with Amazon Go stores. According to a Pipslay survey, 60% of respondents see the frictionless concept as a threat to major retailers like Walmart and Kroger.
The most advanced frictionless experiences are incorporating artificial intelligence (AI) and innovative vision-based sensors that move well past self-scanning. Not ready for AI and vision-based sensors? Here are a few, right-now ways credit unions can reduce friction for members:
Remote deposit makes depositing checks and account management easier.
Automatic billing updates that automatically update the card-on-file data with merchants in real-time in the event the member has a lost or stolen card.
Peer-to-Peer payments allow members to pay others via instant money transfer apps.
Become a Fast Follower with FLEX Core Technology
While new payment technologies continue to emerge, it couldn't be more important for your credit union to stay current and grow with member demands--while at the same time continuing to deliver the personable service that members have come to count on. But where to begin? Fortunately, FLEX has a number of tools to support your credit union's growth! To start, we recommend reading our Digital Account Services eBook. It's a great resource to help improve the digital services your credit union offers your members.