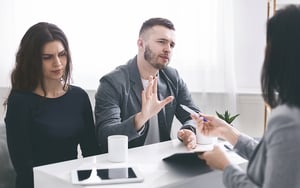 One thing is for certain—your credit union members have options; and they are not afraid to use them. For instance, Accenture reports credit unions and banks lose up to 25% of new customers during the first year. Failing to master this type of customer churn can easily put a healthy credit union in a crunch, considering the average new credit union member costs $442.
In other words, it is much more cost-efficient to delight your existing members and deepen the relationship through robust member retention measures. This doesn't mean new member initiatives have to take a backseat to member retention. Instead, new members—and your credit union—will instantly be beneficiaries of your targeted strategy to improve the member experience. Let's look at three ways you can do just that.
Consider allowing Payment Skips and Fee Waivers
Life is full of ups and downs: members lose jobs, get sick, and then a global pandemic tanks the economy. One key differentiator between traditional banks and credit unions is that credit unions care about the financial wellbeing of their members. But if your credit union fails to demonstrate and build up this perception in tangible ways, it's nothing more than a marketing ploy.
One way to materialize care for each member's personal financial wellness is by offering solutions such as flexible fee waivers and payment skips. While the FDIC and NCUA offered guidance and encouraged banks and credit unions to help meet the needs of customers and members impacted by coronavirus, you can differentiate your credit union by extending similar solutions regardless of pandemic status:
Skip-a-Pay option
Interest rate deduction
Payment reductions
Troubled debt restructuring
These simple types of solutions will differentiate your credit union in ways other financial institutions can't—or won't.
Moving the needle with Online and Mobile Banking
Today, credit union members use mobile banking to carry out an array of financial transactions, including cashless transfers. In fact, over 75% of Americans used a mobile device the last time they checked their account balance. Needless to say, mobile banking has transitioned from a nice-to-have into a must-have tool for members and credit unions alike.
As mobile banking nears the point of saturation, credit unions must shift their focus to differentiating their products to create a world-class member experience. To do so, it's imperative to leverage data coupled with member and behavioral insights to drive innovation. By connecting a mobile banking solution to your core system, you can gain an understanding of the behaviors and preferences of your members. This can help evolve your online and mobile banking interface from a standard solution into a powerful financial wellness tool that makes your members' lives easier. Opportunities for differentiation include the following:
Mobile app statement retrieval
Bill pay integration
Biometric identification verification
Remote deposit capabilities
In App User management functions
Integrated on/off debit and credit card controls
In addition, credit unions should consider leveraging open architecture integration to leverage best-in-class partnerships.
Access to credit for small borrowers
Offering an array of lending products can be exceptionally helpful for members and your credit union. Yet, not every member will need a $300,000 mortgage, $150,000 HELOC, or even an $8,000 personal loan. Instead, consumers may need lending solutions in small amounts for smaller costs, such as:
Unexpected medical bills
Automotive repairs
Moving expenses and more
While most institutions offer loans that start out at a minimum of $1,000, offering smaller loans as low as $500 could be the key that unlocks a superior member experience. At the same time, offering smaller loans to the community can be the entry point to a previously untapped and often overlooked population. Credit unions can open the physical or digital application up to anyone who meets the criteria but requires them to become a member to close and receive funding.
The bottom line: FLEX makes enhancing the member experience easier
Across small towns and cities, credit unions are relied upon by more than 122 million Americans. Most members opt for the credit union experience to enjoy the superior interest rates on loans and savings accounts, coupled with personalized service and other member-based perks. However, this may no longer be sufficient.
It's more important than ever for credit unions to continually elevate the member experience. FLEX offers an array of solutions to help you differentiate your credit union with unique offerings that existing and new members will love. To help you create the ultimate experience for your members, read our eGuide that illustrates how to streamline your member services.