Data-Backed Insights: 5 Core Features Your Members Want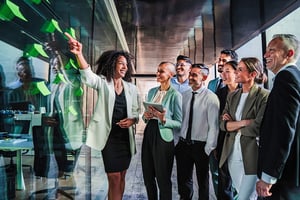 For credit unions, one of the most important things to understand is that not all core processors are created equally. If your credit union is in the process of its own digital transformation, it needs to embrace a solution that can act as a rock-solid foundation upon which the future will be built. Your credit union (CU) shouldn't spend the time, effort, and money to transition to a core processor that will only leave you and your members disappointed in a few short years.
While members may not have as much direct interaction with core systems as your staff does, it is crucial for credit unions to have essential core processor features in order to be competitive and provide a positive member experience.
Below, we'll cover:
Effects of Core Systems on the Member Experience
While members may not always know the behind-the-scenes of your credit union's operations, the core processing software still influences their overall experience. With limited exposure, your core processor plays a significant role in shaping their experience with:
Account management
Transaction processing
Communication
Security
Online banking
Features Your Members Want
1. ID Verification
The TFC reported that $8.8 billion were lost in 2022 due to fraud, reaching anywhere from individual consumers to big financial institutions. ID verification technology is here to help your credit union avoid that loss.
ID verification helps your credit union prevent fraud by quickly authenticating someone prior to opening an account or engaging with any other digital service. It pulls from many non-credit data sources to instantly create a multiple-choice questionnaire populated by highly detailed, personal background information. Only the legitimate applicant would know any of this information, allowing members to quickly have their identity verified so that they can move on with the remainder of the process. Members can trust your credit union more when they know their money is secure.
2. Instant Payments
Over the last few years, instant payments have practically exploded in popularity--to the point where there are many different apps like Venmo, PayPal, Zelle, and FedNow. Its popularity has made the real-time payment market worth $24 billion.
Thankfully, this technology is now readily accessible to credit unions by way of integrations like FedNow. It's an instant payment system created by the Federal Reserve that can transfer money from one account to the next--and from one financial institution to another--safely and securely in no time.
3. Mobile Banking
Studies show that 72% of adults in the US prefer mobile and website banking than going in person. For members, it's a fast and convenient way to monitor their accounts, send and receive money, make payments, and even engage with customer service.
For credit unions, it's a way to strengthen security (again helping to cut down on fraud-related costs) while also creating an even more personal, engaging, and convenient experience. All these qualities help your credit union to remain as competitive as possible.
4. eSignatures
It is no surprise that studies show that almost 70% of people prefer eSignatures to in-person signing. Your members appreciate eSignatures for their convenience, efficiency, and flexibility.
With eSignatures, members can securely sign documents and agreements from anywhere, eliminating the need for in-person visits or paper-based processes. This digital approach saves time and reduces paperwork for convenient member transactions and access to financial services.
5. Bill Pay
Credit union members value digital bill pay for its convenience and simplicity, which is why 85% of people already use electronic bill pay. Digital bill pay platforms enable members to easily schedule and manage their bill payments online, eliminating the need for writing and mailing checks or visiting physical locations. This streamlined process saves time and reduces the risk of late payments.
Digital bill pay offers convenient features like payment reminders and recurring payments, enhancing the member experience by providing a hassle-free way to manage finances.
Empowering Your Members With the Best Core System
These are just a few examples of the core system features that your credit union can embrace today so that you are better serving new and existing members moving forward. FLEX has recently authored an eGuide on similar types of integrations that goes into even more detail on the benefits you can expect to enjoy. Click the button below to learn more!
However, if you have any additional questions about topics like ID verification or mobile banking, or you want to get started with features like instant payments but aren't sure how to begin, please don't delay-- contact our team today.