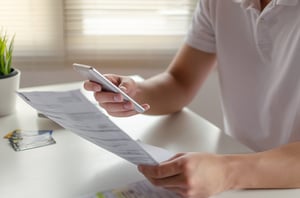 While members are demanding simplicity in every interaction they have with your credit union, they are also expecting that those transactions are secure. How do you break down walls while keeping up protective barriers? The answer should be by using advanced ID verification tools from your core provider.
Consider these very compelling statistics:
In 2020, more than two-thirds of U.S. consumers surveyed (71%) reported that knowing a financial institution was using more advanced identity verification methods would positively affect their decision to do business with that institution.

Americans opened more new accounts online with their mobile devices (61%) than on a computer (56%) in the past twelve months.

There was a 19% increase in abandonment during account openings compared to last year, due to high consumer expectations for convenience and low tolerance for friction.
What tools are available to help reconcile the seemingly conflicting demands for simplicity and security, whether in-person or mobile, while also remaining compliant? If you're using the right core processing provider, the answer is Member ID Scanning and SMS Two-Factor Authentication.
Member ID Scan
When you are onboarding a new member or signing them up for a new service, validating their documentation and entering information can be time-consuming. Modern core providers now offer fully-compliant digital scanning technology that can automatically recognize the form of ID documents your member provides. The data from the document can then be auto-populated into the member's record using Optical Character Recognition (OCR). This technology can include automatic recognition of whether the documents are genuine. How? The OCR technology features reference images of genuine samples for the same document type, as well as the ability to cross-check the information against global address databases and dictionary comparisons for errors.
Credit union staff then have access to all of the data captured in a secure, single platform and can see the results of the security checks performed of the ID document image. This provides a full audit trail, as well as the ability to make quick, informed decisions for members.
Two-Factor Authentication
Two-Factor Authentication provides an additional layer of security.This feature strengthens existing multi-factor authentication (MFA) solutions that have been in place since FFIEC and NCUA advised credit unions of the risk of a single-factor authentication solution.
Two-factor authentication requires the user to have two things to get into an account: something that is known (a password) and something is had (an additional security code from your mobile device or a physical token). When SMS-based two-factor authentication is enabled the service will send a mobile phone number a text message containing a one-time code whenever signing in from a new device. This means that even if someone has the username and password for an account, they won't be able to sign in without access to your text messages. When members select SMS as their authentication method, a text message with a passcode is sent to their device. Each passcode can be used only once.
Give Your Members Simplicity with Security
You can give your membership everything they want if you have the right tools at your disposal. Your core processor should allow you to keep member information secure while also giving them the ability to achieve their goals without hurdles or wasted time. This combination will ensure your credit unions future by proving to your members that you value their time and their security.
If you're looking to ensure you're providing a best-in-class member onboarding experience, check out our eBook below.