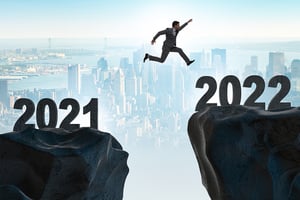 Business as usual is clearly a notion of the past. Since the COVID-19 pandemic removed the scales off everyone's eyes, the unthinkable isn't so far-fetched. In light of this new reality, let's take a closer look at a few ways credit unions can capture a refreshed perspective for a renewed focus in 2022 and beyond.
Rediscover & Realign Your Credit Union's "Why"
Although most financial institutions are extremely clear on the "what"—checking accounts, loans, mortgages, etc.—the "why" is more obscure. Yet, rediscovering and realigning your credit union with its "why" or purpose couldn't be more important in 2022 and beyond. As the world becomes increasingly aware of environmental, social, and governance issues, your purpose should be the invisible—but ever-present—hand that shapes and molds your credit union's culture and strategy.
One example of a company that did just that is CVS Health. In 2014, CVS Health realigned with its purpose, "to help people on their path to better health," and became one of the first chain drugstores in the U.S. to stop selling tobacco. The immediate impacts were dismal, with CVS losing $2 billion in annual cigarette sales during the first year. However, by the end of 2014, CVS posted almost a 10% increase in annual revenue with operating profit up by over 4%. Two years after the announcement was made, the company's stock price was up 66%.
With this in mind, now is the perfect time for your credit union to renew its commitment to and realign with the "why". Your purpose should act as your "North Star" to guide your credit union's business strategy and everything else. When you get it right, your purpose can be instrumental in driving brand equity, inspiring employees, and evolving members into raving fans.
Understand Your Brand Equity Has Tremendous Value
While banking products can be duplicated and state-of-the-art apps can be replicated, your brand equity is what sets your credit union apart. Very simply, brand equity is the intrinsic value of your brand. It's how members feel at the mention of your credit union's name and what prompts members to choose your credit union over the community bank down the street. You generate positive brand equity by:
Consistently creating remarkable member experiences,
Generating awareness through campaigns that speak directly to your member's values,
Delivering on promises every time, and
While the warm and fuzzy of brand equity feels nice, it can impact your balance sheet. Specifically, Patagonia epitomizes what it means to be purpose-driven. The brand equity of this environmentally-conscious clothing company allows them to charge hefty premiums for its products while converting customers into dedicated, raving fans.
As a result, 2022 represents an opportunity to renew your focus on your brand strategy and further differentiate your credit union from the field. And your renewed focus on brand equity can impact virtually every KPI. According to multiple case studies, credit unions that leveraged strategic branding opportunities experienced remarkable improvements, such as:
14% growth in loans,
52% decrease in staff turnover, and
10% net member growth.
Understand Your Members on a Deeper Level
The needs of your members are rapidly changing, and it's imperative to have a dynamic understanding of member pain points. Fortunately, your credit union has access to massive volumes of member insights and data. However, on the flip side, most credit unions are light years away from harnessing the data already at their disposal. According to a 2018 study conducted by Best Innovation Group and OnApproach, only 55% of credit unions have a data strategy. And those credit unions with a data strategy reported it would take them anywhere from three to five years to activate it.
Without the right data and infrastructure in place, you are left guessing what your members want and need; while competing banks may already be offering solutions based on each individual's lifestyle and stage. As a result, a major focus for credit unions in 2022 should be to harness and maximize the data you already have. Doing so can open the doors to tremendous growth and remarkable member experiences via personalization.
Each Member Experience Should Be a Personal Member Experience in 2022
After you unlock the insights and data already within your control through the right systems, you can start the process of creating personalized member journeys. One example of a financial services firm that uses personalization to perfection is Credit Karma. By using internal and external user data—such as credit card balances, auto loan balances, regional auto insurance rates, and more—Credit Karma makes timely, personalized suggestions for each user. For instance, if Credit Karma notices a user's credit card balances are climbing, they will suggest the user makes additional payments or considers a personal consolidation loan.
How could your credit union and members benefit from a similar level of personalization? By understanding each member's needs, your credit union can suggest the right product or solution at the right time. The end result will be increased cross-selling and bolstered upselling coupled with improved member experiences and deeper relationships.
Be Flexible with Planning
Your strategic planning for 2022 will most likely look different than previous years. As we all enter unchartered territory toward a post-pandemic society, you can't simply conduct strategic planning as usual. Specifically, the way you approach and formulate short-term, mid-term, and long-term strategic plans will need to be refocused, adapted, and/or shelved.
One key takeaway from the pandemic was that most business contingency plans (BCPs) fell short. While most BCPs cover natural disasters and cybercrime, global pandemics were seemingly too far and few between... until they weren't. Because of this, it's important to focus on the foundational building block initiatives to help teams be ready for adaptation.
Far too often, annual planning gets bogged down with volumes of data and metrics that stifle fresh thinking and valuable discussions. Instead, the goal should be to implement more flexible and robust planning that stimulates creative and multi-year thinking for effective road mapping. Consider investing in knowledgeable subject matter experts and planners to infuse more subjective project prioritization, innovative thinking, and more acceleration as your credit union enters 2022.
Grow to and Through 2022 with FLEX
While capitalizing on user insights and data to create personalized journeys can seem daunting, FLEX core systems for credit unions make it easy. At FLEX, we offer the most complete data processing solution. Our comprehensive offering harnesses state-of-the-art solutions and technologies to help differentiate your credit union and provide the highest level of service for members. Learn more about how we can help by downloading our Member Onboarding Best Practices white paper.