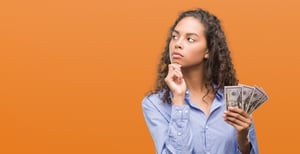 The calculation is not a complex one: credit union growth is imperative for long term survival. Retain your current members while at the same time adding new ones. While marketing budgets often focus on the amount of money you are willing to spend to build your member base, how do you actually determine that number? When budgeting for member acquisition, the options for marketing programs are endless - print, digital ads, social media, email campaigns. Where are marketing dollars best spent? What is the "right" amount to spend on each medium? To begin to answer that question, you must determine how much it costs for you to earn a new member.
How Much Does a New Member Cost?
Unfortunately, there isn't a universally defined way to calculate this number. It can vary greatly depending on how credit unions decide to categorize costs. Acquisition certainly should count all marketing, advertising, and other awareness-building activities. Most business strategists believe in the philosophy of also adding more general overhead costs as well, such as salaries, rent and labor expenses. Calculating your fixed costs and your variable costs is a logical first step in the equation. Then, having a set goal for revenue and member growth will assist in determining your current position versus where you want to be. Depending on your risk tolerance and aggressive growth goals, you can elect to spend a percentage of your revenues on new member acquisition. Generally speaking, and highly dependent on methodology and accounting type, according to a study by market analyst firm Vetter, the average cost of acquiring a new member for US credit unions is somewhere between $400 and $700 per new member.
Best Types of Members to Attract
Once you determine your own average member cost, you then need to make sure you're balancing cost vs. value. Long-term growth strategies must be profitable. If you are adding many new members but those types of members aren't generating revenue, then there is an issue. Look at the type of member that's most profitable for your credit union and plan your strategy to attract more of these. Loan accounts typically increase long-term profitability, so often that's a great place to start.
By tracking the cost of a new member compared to the value they bring, you can decide what makes the most sense when planning your marketing campaigns. You can spend your time and money to acquire more of the members that you actually want by looking at the optimal product and service mix for your credit union's goals.
Make Member Retention a Goal
Of course, calculating the cost to acquire a member is also useful when evaluating and planning your retention strategy. The average credit union closes 12% of its account base each year. As a result, a credit union is expected to replace its entire member base every eight years, and that is just to stay even... not grow! It's generally easier to keep an existing member instead of acquiring a new one, and a good portion of that equation resides in an increased focus on outstanding member services. It's also good practice to budget at least a portion of marketing costs for programs to keep existing members satisfied. Do some more calculations and determine the average lifetime value of a member.
Bottom line: Know your numbers. Armed with data and information, you can determine if your member attraction and member retention programs make sense from an ROI standpoint. Rely on core technology to provide you with robust reporting that can deliver the data and analytics necessary to make strategic decisions. It's absolutely worth investing in both attracting and retaining your members, so working with a trusted vendor that provides the detail you need to analyze your credit union's member base is crucial.