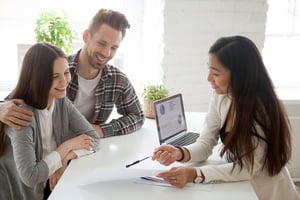 Efficiency is the goal of every credit union executive, increasing revenue while operating in a lean environment. Lending is the bread and butter of the credit union's revenue stream, and many credit unions are looking to grow their loan income without increasing staff count and expenses. There are several ways to bump up direct loans efforts but it all starts with your employees. Your staff is the most essential element when it comes to creating a seamless member experience. After all, that's one of the primary reasons people choose credit unions - for their outstanding member service. Here are 10 ways you can optimize your staff roles and operations to grow direct loans, and one way you can promote it:
Restructure Roles to Include Sales People to Work Up Your Loans - having a sales-trained lending team can give you an edge when it comes to closing more loans and selling add-on products like insurance. However, this does not necessarily mean hiring new employees. Restructuring roles so employees with a sales background can be the internal shift that is needed.


Train & Motivate - Train your employees and train them well! The sales/lending team will be able to close more loans if they are trained in a great selling routine, and deeply understand the loan process. This will make it easier for them to efficiently walk members through the application process. Incentivize your sales team as a motivational tool. Offering commissions can increase loans and satisfy your employees in one fell swoop.


Remove Non-Sales Responsibilities - Don't overload your sales/lending team. Having them focused on reviewing loan applications and meeting with members will be the best use of their time. If they're overloaded with paperwork and other office tasks, then they won't be able to channel enough attention into selling.


Funnel All Applications Through Sales Reps - Never leave a stone unturned. Even if an applicant doesn't seem to be a good fit for a loan, it's still good practice to have a sales representative take a look. Other products or services may be a good fit for the applicant, and the sales rep can advise the member on steps to take so they can successfully re-apply at a later date.


Set Goals to Succeed - Accurate goals and expectations are key because setting expectations too high can be discouraging. It will make the selling process more stressful, and likely less successful if employees are too focused on producing quantity over quality.


Have the Tools Needed to Succeed - Avoid losing loans at the last minute because of system or scheduling issues. The key to closing a loan is doing it expediently, and if scheduling and travel constraints become an issue, the applicant's chances of walking away increase. Offer the convenience of e-signatures to assist not only the member but the sales person's overall efficiency.



Supplement, Don't Replace, the Sales Team with Digital Lending. Perhaps a member wants to start the application online and finish it in-person with a sales rep, or others may prefer to complete as much of the process as possible online. In either case, your credit union should be able to deliver in a multitude of channels, whether it be in your office, online, or via a mobile device. When combining these two mediums, direct loan growth can exceed your expectations.


Provide Loans in All Credit Tiers - Although scoring big loans is a great way to produce revenue, that's not what members always need. Having a variety of loan options will not only benefit more members but also bring in a higher volume of loans.


Loan Policies should Empower, not Bind - Oftentimes, members are excited to receive their loan until they realize the harsh reality of paying it back. Be open and honest about loan policies throughout the process, and ensure that the sales team is granting the right type of loan for each member. It will be a much better experience for all involved when the member receives an appropriate loan, and doesn't feel bonded to a contract that's unrealistic for their needs.


Offer Creative Lending Solutions - Understanding the needs of your members is crucial here. Don't force them into a bad loan, or one you know they can't handle. A short-term gain will hurt the member relationship, and the credit union's reputation, in the long run. Work with your Loan Origination System (LOS) provider to see what types of creative lending you can offer that will encourage members to continue to work with you, and spread the word about the member-centric lending programs you provide.

Check out the Payday Alternative Loans (PALs) that the Arizona-based Marisol Credit Union created: "Creative Lending Alternatives Led to CU's Growth".


Last, But Not Least, A Bold Marketing Effort - Members can't ask about your products and services if they don't know they exist! Perhaps a member is looking elsewhere for a loan because he or she didn't think your credit union had a solution for them. In-branch marketing, as well as email, social media, and other digital efforts, give members the information they need, so when it comes time to apply for a loan, they go to you first.