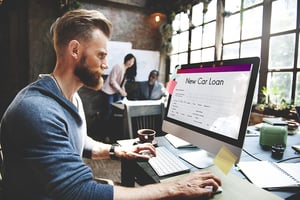 As a credit union, one of your goals should be to increase the number of auto loans you acquire each year. And if you've been monitoring the market, you've probably noticed the significant increase in car payments, which has doubled since 2021. As of 2022, auto-related loans account for nearly 10% of all consumer debt in the U.S., which means a wealth of opportunities to boost your credit union's ROI and help people save!
However, many consumers don't look to credit unions for help for a myriad of reasons. Perhaps they get caught up in their emotions when finding that new, shiny car or they think it's more convenient to make the purchase and get their loan with a dealership. Despite these examples, there's still hope for credit unions to boost their lending through an effective auto loan recapture strategy.
First Things First: Focus On Your Members
When your priority is auto loan growth, you should be incorporating a variety of marketing tactics such as sending out emails, making mentions, advertising service promotions on your website and desktop banking along with sending push notifications through your mobile app. Doing so will keep your brand top-of-mind. Although getting a direct loan is often an easier and more cost-effective process than refinancing, sometimes you just don't get that luxury. So, the best thing you can do is put the focus on your own members.
Why Credit Unions Should Use Auto Loan Recapture
Both recapture and refinancing involve the same approach; however, instead of targeting any borrower, auto loan recapture concentrates on a more specific group of your credit union's members. It might seem like a wider net would garner more people and more loans, but one of the keys to effective marketing is having a target audience. Simply sending out generic content to random people who aren't associated with your credit union (CU) will cost you much more and lead to poor results.
When you fixate on your members, you'll gain deeper relationships, a better auto loan portfolio, and of course, added profitability for your credit union. First and foremost, these people are your members. You already know and love them, and vice versa. Chances are, they're also connected with other financial institutions. Secondly, your team is bound to feel more of a responsibility to get the loans back because they were initially "stolen" by another lender. This is your chance to rally together and fight for members' savings, becoming the heroes that swoop in and save the day. In the end, your members' ultimate goal is to save money. And your credit union has competitive rates, excellent loan products, and quality service that can help them do exactly that.
Whether you're doing everything in-house, partnering with a vendor, or letting a vendor handle the job, every auto loan recapture program should incorporate the following steps:
1. Connect with Borrowers
Luckily, you won't have to look far for borrowers, as you'll be focusing on existing members who have already given you their information. Find ways to connect with them, whether it's through email, phone calls, or online via your website or mobile banking platform.
2. Deliver a Clear Message
Clarity is key in communication, and your members will appreciate a straightforward message. Tell them how you can help in a concise yet appealing way.
3. Ensure a Seamless Process
Make sure the transition is as quick and easy as possible and you'll be sure to impress your members. Doing so will prove that you understand their time is valuable (and it'll definitely help your staff out too).
It's also important that you highlight the low monthly payments you can offer and show members exactly how much they'll be saving when they finance with you.
The Solution to Your Credit Union's Lost Loans
Do you feel like your credit union is missing out on lending opportunities? You don't have to settle for second best when it comes to obtaining auto loans. Focusing on your members with an auto loan recapture program can save you valuable time, money, and energy. With solid connections, clear messages, and a seamless process, you'll be well on your way to more auto loans. And fortunately, we have a tool to help you get there!
FLEX provides a simple and efficient way to fulfill member loan needs and boost your credit union's bottom line through a partnership with fintech company, SavvyMoney. This banking platform integration features targeted lending campaigns, pre-qualified loan offers, and loan lead identification that is based on member credit profiles and the specific lending criteria of your credit union. SavvyMoney's recommendation engine drives member engagement by allowing members to view their pre-qualified loans right next to their credit scores, so they always know what they qualify for and at what rates. In addition, the analytics platform will alert you of loan opportunities for your members, which will save your staff time. It's truly a win-win for both you and your members.
Your credit union should be able to simply identify loan opportunities for your members based on their credit profile and your lending criteria. FLEX and SavvyMoney® have partnered to deliver a smarter credit score solution for your online and mobile platforms which will offer loan recapture programs and use detailed analytics to help increase cross-selling opportunities and improve member engagement.
Register for our free, live webinar being held Thursday, August 18, 2022, at 2:00 P.M. Eastern to learn how your credit union can turn insights into smart lending opportunities.
Download our eGuide today for more information on how you can capture more auto loans!