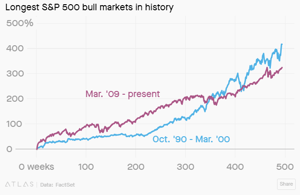 At the close of trading on August 22, 2018, the stock market made history by setting the record for the longest bull market ever recorded. The last low set by the S&P 500 index was on March 9, 2009, making this run 3,453 days of fairly steady growth, with the S&P 500 climbing by more than 320% over that period. A bull market refers to a market that is on the rise and is typified by a sustained increase in market share prices. During a bull market, investors have faith that this upward trend will continue, and will invest more. But not all investors are keen on stocks these days. Another report made the news last week that surprised some economists: Millennials actually prefer cash investments over the stock market, even in this long-standing bull market.
According to a bankrate.com survey, Millennials are the most responsible generation when it comes to emergency savings, but when it comes to long-term investing, this age group looks to traditional savings accounts. When asked what the best long-term investment is, 30 percent of millennial (18- to 37-years-old) respondents said cash. Experts point to the Great Recession as a leading cause for the skittishness about stock market investing, as this age group developed many of their adult habits during a dark part of American economic history, and a good deal saw their parent's retirement funds and even their own college funds dwindle drastically during the time frame.
Because they are so young, they are not as comfortable with the long-term view of investing. Their parents and grandparents have witnessed many fluctuations in the market, and while the markets go up and down, they know they historically rise more than they fall. As a result, older generations don't avoid stocks but embrace them. For those 38 and older, 37 percent cite the stock market as their top investment choice, while only 21 percent believe cash is king.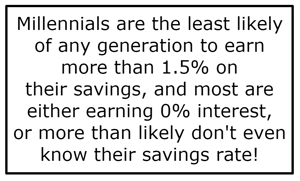 While this attitude towards savings may not be the best for the generation as a whole, it bodes well for credit unions eager to attract them. Millennials are the least likely of any generation to earn more than 1.5 percent on their savings, and most are either earning 0 percent interest, or more than likely don't even know their savings rate! As previously mentioned, Millennials believe in savings, and while it is tempting to capture their savings blindly with low or non-existent rates like many banks are doing, credit unions stand the chance of being the bigger person and can very well come out ahead when this generation realizes what they are missing out on.
Look to offer savings accounts that appeal to millennials. First of all, make it easy for them to open new accounts without coming into a branch... right on their mobile phone through a streamlined mobile banking app, or online through your internet banking portal. Push the benefits of having multiple products with your credit union and demonstrate the value of managing them all in one place. Market savings options with attractive rates and target this generation with CD offers. Some credit union core systems have the ability to round card and draft transactions up to the nearest dollar and place the difference into a separate high-yield savings account. While companies, like Acorns, have this ability, credit unions can keep their member in-house and deepen the member relationship by offering "change-saver" options themselves.
Don't be afraid of your Millennial members checking out the stock market or feel you have lost out on opportunities if they do decide to test the waters. Educating your members on the different investing options will build trust that will lead to lifelong member retention.