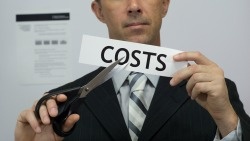 The power of plastic. It has advantages to both the members that swipe for purchases, and also for credit unions that issue and control processing in-house. Federal Reserve data released in 2014, found that 72 percent of consumers had at least one credit card.1 So, what's the best option for your credit union when it comes time to deciding whether to outsource or process cards in-house?
There's no doubt that Americans love credit cards. That same Federal Reserve data reports that the average credit card holder in 2012 had four: 2.4 general purpose cards, 0.2 charge cards and 1.5 branded cards (cards displaying a merchant's logo).1 And when it comes to bank cards, Experian's State of Credit 2013 report found that consumers had on average 2.19 bank credit cards (which do not include store cards). 2
For credit unions that do not have a strategic focus on card business, outsourcing may be the right option. However, there are certainly many benefits to running an in-house credit card program.
Cost Control
The complicated and expensive days of managing credit cards are long gone. With the right core processing system, integrating credit cards can be so seamless that it's conceivable to run a card program without the need for staffing a large department or paying a 3rd party to manage the process for you. Because many of the processing features you normally pay for in a full-service environment are eliminated and others are blended into your daily operations in-house card programs will save you money.
Control
Managing in-house credit cards offers the flexibility that credit unions desire. Product offerings can be tailored based on member demographics. Cookie cutter programs from 3rd party providers may not be attractive to your members. A CU that can offer relevant and useful products will be rewarded with member loyalty. Loyalty because your members know and trust you and this is a benefit because they will be more apt to pull your card out of their wallets. If members have questions about their accounts, they will be able to speak with you and not someone with whom they have no financial relationship. Card creation can be instant, coupling in-house credit cards with instant issue, ensures that members will not have to wait to use their new cards.
Behavior Data
The rich data history of member behavior provides insight to leverage products appropriately. Marketing can be customized to build upon already existing relationships. Data shows where and how members shop, and who would be at high risk for payment behavior. The abundance of data affords an opportunity for proactive fraud detection tools such and features such as mobile remote controls for members' debit and credit cards.
In order to achieve the control and efficiencies of bringing card management in-house, credit unions must have core integration that can support card processing. If legacy platforms are struggling to keep up, paying a third party for card processing is money better spent on updating core technology.
1. The Federal Reserve Bank of Boston's 2011 and 2012 Surveys of Consumer Payment Choice, released Sept. 29, 2014
2. Experian's State of Credit 2013 report