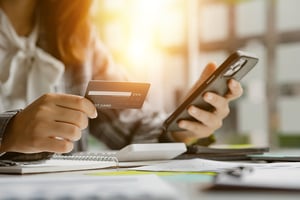 Credit cards play a critical role in credit unions' consumer lending strategies, but many credit unions have hesitated to switch to in-house cards. This has mostly been due to the unique characteristics of credit cards and inadequate core systems. However, today's credit unions must rise to the challenge and implement an efficient card management system, which will ultimately benefit both their CU and its members. Throughout this article, we'll show you the top six key advantages of a core-integrated card payment solution.
1. Efficiency and Cost Savings
The complicated and expensive days of managing credit cards are long gone. With FLEX, card management is seamless. Credit unions are able to run a card program without the need for staffing a large department or paying a third party to manage the process. Pass-through or Gateway credit card processing provides integrated benefits with FLEX. Even the smallest card base can benefit. You can still take advantage of chargeback processing, fraud protection, card embossing, after-hours support, and rewards programs offered by your card processor of choice.
2. Control
Managing in-house credit cards offers flexibility. Product offerings can be tailored based on member demographics. Cookie-cutter programs from third-party providers may not be attractive to your members. A credit union that can offer relevant and useful products will be rewarded with member loyalty.
3. Real-Time Member Access
Members have real-time access to their card information through internet banking, mobile banking, and audio response. Don't just pass members to a third party to manage their credit card, give them access right where they want it.
4. Behavior Data
FLEX provides a rich data history of member behavior, providing insight to leverage products appropriately. Marketing can be customized to build upon already existing relationships. Data shows where and how members shop, and who would be at high-risk payment behavior.
5. Credit Card Creation
Credit card loans can be funded directly through FLEX as another loan type. As the loan officer completes the credit card loan they will be prompted to create the card number. The loan officer will then be taken through the standard card number creation process and if instant issue is in place your member walks out the door with an active credit card in hand.
6. A Seamless Member Payment Experience
The complicated world of accepting card payments can seem overwhelming. For this reason, FLEX has partnered with Beyond, a leading provider in the payments industry. Integration with Beyond Payments provides credit unions with the ability to process card payments in-branch and over the phone for loan payments, account funding, in collection scenarios, and more, all within the FLEX core system.
Our aim is to help make the member payment experience as seamless as possible. Integration with Beyond meets this objective and creates new efficiencies for our credit unions. Every step of the payment process can be performed within the FLEX core system.
Final Thoughts
Fortunately, advancements in technology have paved the way for the ultimate member experience in regard to card payment solutions. Now, thanks to FLEX and our partnership with Beyond Payments, we can help you provide your members with the safest and most convenient way to make purchases. Advanced card management has never been easier! Download our FLEX & Beyond Payments Integration eGuide today to learn how your credit union can better serve your members!