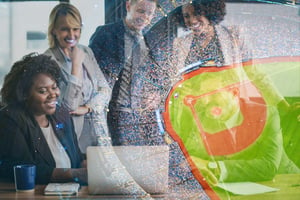 We are well into July, and for baseball enthusiasts, that means the All-Star game is right around the corner. This past Sunday evening MLB revealed the roster for the 89th annual Midsummer Classic with much fanfare, a few givens, and even some surprises. Some of the choices are fan favorites, others voted in by peers who recognize their hard work ethic, and some earn their spot thorough coaches who notice the grit and endurance that may go overlooked by the fair-weather fan. What does your all-star roster look like at your credit union?
Your Heavy Hitters: While many players enter the ranks of All-Star due to extraordinary batting averages, there are some who strike out often... but when they do connect with the ball, can be expected to make a run around the bases. Perhaps you have products or services that aren't always a good fit for every member, but when they do take advantage of them, they deliver big dividends to your bottom line. A good example of this would be remote bulk check deposit scanning for businesses. Most members only have one or two checks to deposit remotely and taking a picture with their phone through the mobile banking app is sufficient. However, some business receive many checks throughout the day and offering them a way to bulk scan them into their account without coming into a branch might be a way to win more business accounts and big loans. It's important not to ignore these services in your marketing to members, as when they do hit a home run for you, it can be a game changer.
Your Fan Favorites: Some players make the roster not just because of their on-field talents, but for their off-field antics or stand out personalities. The player with the great smile that wins the hearts of fans, young and old, is sure to flash those pearly whites often when the camera is on. What member services do you offer that captures your members' attention the most? Is your CU known for low interest rates in the community? Great auto loans? Does your mobile banking app shine? Capitalize on these strengths in marketing to new and existing members.
Your Base Stealers: What product leads your CU in stolen bases? Some potential new members currently banking with another FI may be prime for the picking by dangling little incentives that encourage them to bring part of their business to you. Do you have a great and easy to use mobile lending product that can gain some new business? Bringing in a member even with just one product opens the door to possibilities in gaining more of their savings and lending business down the road.
Your Starters, Relievers and Closers: Pitching can make or break a team. An All-Star starter is one known for endurance, while a reliever is sometimes called in for one batter at a crucial moment in the game. And closers? Nerves of steel. Think about your member offerings. Do you have a product that has withstood the test of time... a youth savings account that grew up with him or her, and became their nest egg? Or a HELOC, maybe only used in times of dire need or for a special project, but crucial to have on hand, just in case. Do you have one product to be called in as the closer - a mortgage loan that will seal the deal and keep your members with you for the long haul? Each of these products serve a very specific purpose, and can be introduced to further your member's commitment at different stages of your relationship with your member.
The 2018 All-Star Game takes place Tuesday, July 17 in Washington D.C.'s Nationals Park, with festivities kicking off the night before with the popular Home Run Derby. Have a little fun at your credit union next week and celebrate America's Favorite Pastime! Serve some peanuts and cracker jacks, and push your products & services that will ensure your members will ALWAYS come back and root for their hometown CU!