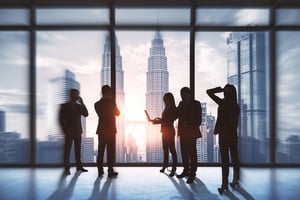 A lot has changed for credit unions within the past two years. Many have evolved their delivery models to support more digital, remote communications while still aspiring to offer a special, personal member experience. However, achieving this level of digital prowess takes a strategy that can quickly and easily adjust to uphold specific undertakings, like paycheck protection, skip-a-pay programs, and contactless transactions. Members still require personal connection even while online and those who aren't already acclimated to digital channels need more education, connection, and security understanding to get comfortable. So, what else has changed in the credit union world, and what does the future hold?
Credit Unions: New Innovations, Trends, and Technologies
Recently, credit unions (CUs) have adopted new communication channels, including interactive online chats and video banking. These channels have significantly improved operational efficiency--through the performance of simple tasks and member interactions--and enriched their members' experience by providing an added layer of convenience and responsiveness.
Incredibly low-interest rates have also made an impact, forcing CUs to find other means of generating non-interest income. Many are hesitating to charge high fees for their offerings, but certain services such as NSF avoidance and credit score monitoring have proven to be viable options for producing profits. Avoiding NSF fees by allowing unlimited overdrafts is more appealing to members and will make them feel like the service fee is worth paying, while fee-based credit score monitoring is a highly sought-after service needed for day-to-day activities like applying for a credit card, loan, or renting an apartment.
Financial technology has advanced at a rapid pace and has been of paramount importance to credit unions. Throughout the onset of digital transformation, credit unions have discovered a range of cutting-edge fintech services that can benefit their members, such as identity management, financial wellness training, and person-to-person payments.
In this highly competitive industry, CUs have had no choice but to keep up with the latest technology or risk losing dollars. The ones who have decided to embrace new technology are expanding their service offerings, which is making them more appealing to prospects and helping retain existing members.
Fintech Partnerships
Credit unions are also better equipped to manage change when it comes to collaborating with fintechs. Since they typically have less intricate technical frameworks compared to other financial institutions, CUs can easily add new products and services. Furthermore, credit unions are generally more used to partnerships, so the concept of working together with outside organizations to deliver value is not a stumbling block for them.
Trends and Technologies
Today's workforce is practically unrecognizable compared to two years ago, and credit unions have adapted to back gig workers and entrepreneurs. With this new labor pool, member needs (specifically in the money management area) have also evolved, and CUs are discovering new ways to certify revenue streams and expand short-term credit. In addition, they are giving members the opportunity to view their spending and learn how to take advantage of better cost efficiencies.
Moreover, credit unions have succeeded in communicating with members no matter their location using text and smart speaker banking. These new integrations let members see their balances, make payments, transfer funds, and receive applicable additional product and service offerings (which also aid cross-selling efforts!).
A Look At The Future
Looking forward, credit unions can compete with big banking institutions by strategically partnering with fintechs and embracing new technology. Fintechs can offer solutions for how to effectively engage with current members while captivating new ones, especially those who are looking for a digital-only experience. Location is no longer an issue, as mobile banking transcends physical limitations and consumers are becoming more comfortable with digital, on-the-go banking.
The strongest credit unions in the industry will create and establish robust digital strategies that acknowledge the entire member experience. These CUs will create a customized, more colloquial means of engagement that brings all of these touchpoints together. The art of collaboration will play a critical role in this, and it's expected that the number of fintech and CU partnerships will increase as well as the need to develop even closer relationships that go beyond just client and vendor. There will also be a need for credit unions to gather all of their fintech partners and discuss how to create smoother transitions between services to construct a more calculated member experience. Finally, it's anticipated that credit unions will deviate from traditional organizational charts, and instead, focus more on vendor management, partnership, and alignment of business verticals to establish consistency.
Final Thoughts
Although much has changed in the financial industry, the future remains bright for credit unions that choose to embrace new technologies and fintech partnerships. In today's world, credit union members are searching for a simple and convenient banking experience. Digital banking offers members just that and allows CUs the opportunity to share more intuitive and accessible products and services, which build trust while fulfilling member needs. If you're interested in learning more about how your credit union can help improve your digital service offerings, download our Digital Account Services eGuide.