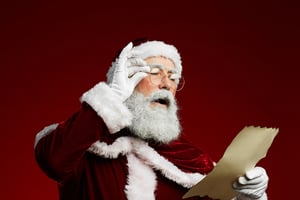 On December 25th, humans across the world wake up to receive their judgement: In the 364 days prior to that day, the valuation is simple, have they been naughty or have they been nice? This determination was made in the days before in a remote and frigid village known as the North Pole. Arguably, one of the most impactful and globally relevant documents can be created and verified by only one man - Santa. But how can we be sure this critical decision was executed by the big man himself when we can't be there to see it? It's notarized of course! Certainly you must think this is done in-house but, legally, elves may not be commissioned to notarize. Instead, the answer is simple - remote online notarization!
We are, for once, not talking about digital as it relates to catering to Millennials. Digital services, like remote online notarization (RON), enable CUs to reach an unexpected set of members - disabled borrowers and other often hard-to-reach members. Remote online notarization is when documents are notarized in an electronic form where the signer uses an electronic signature and appears before the notary using online audio-video technology. Members can connect with a notary anywhere, anytime, without physically needing to meet them as long as you have the internet.

Credit Unions have made great strides in going digital to reduce friction in their transactions with technologies like eSignature and mobile apps. Applying for a loan or mortgage remotely helps get deals done in a fast-paced world where running to the branch is a chore rarely left on people's to do lists. But, when it comes time to finalizing that mortgage, a trip to the notary was necessary. For people with disabilities, elderly people, or those that just live in remote locations, RON is a game changer.
This practice began in Virginia in 2011. They were the first state to pass a law that allowed any business or consumer to get their documents notarized by someone who was not physically present. Montana, Texas and Nevada followed suit shortly with remote online legislation, and there's no sign of slowing adoption with Minnesota, Michigan, Tennessee, Ohio, Indiana, and Vermont on track to back RON next.
Traditional thinking might lead you to believe that going digital could alienate these folks, but the numbers say something else entirely. Pew Research tells us 73% of Americans 65 and older regularly use the internet, and 88% among people 50 to 64 years old. Sixty-one million U.S. adults report they live with a disability, according to the Centers for Disease Control and Prevention. Many of these individuals not only enjoy the internet and other networked technologies, they are reliant on them for life's essentials. Mary Pat Radabaugh, formerly of IBM, famously said, "For most people, technology makes things easier. For people with disabilities, technology makes things possible."
It is one of the tenets of Credit Union philosophy that we are "People helping People," and we need to ensure we do just that by looking at what we offer and ensure we are enabling all of our members to achieve their financial freedom by giving them the access they need. Making the thoughtful and intentional effort will certainly help your CU end on the Nice List... officially.