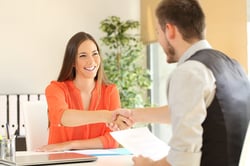 In a surprising
recent survey
, it seems in-branch service is not becoming as obsolete as we once thought. In fact, there is reason to believe it is making a come back. Much in the same way we all once thought the advent of ATMs spelled the demise of the branch, today's emerging fintech advancements would seem to suggest the same. When discussing the latest and greatest in mobile banking apps and tools, the conversation often veers towards the convenience and immediacy provided by these tools and their subsequent popularity and the increased demand for them. However, when delving further into the discussion, and as illustrated by various surveys, there seems to be a human element that is still preferred when facing a major or complex financial event.
Theres no question that apps and on-the-go banking capabilities provided by the latest fintech are hugely popular and serve as the best way for many to manage various transaction types. These tend to be smaller, daily maintenance transactions such as checking balances, making deposits, and money transfers. With the more recent introduction of instant remote credit card controls, a member can even report an account lost or stolen, or shut it down completely if potential fraud is suspected. However, when it comes to the more complex and involved transaction types, where larger amounts of money are involved, an in-person appointment at a branch is still preferred, where a subject matter expert can discuss the details in depth and in private. This might be applying for a car loan, a mortgage, or opening a savings vehicle like a college fund or CD. These appointments require more
personalized interactions
, tend to be more involved or lengthy in nature, and often hold the importance of a significant life event. The savvy credit union will embrace this preference, even capitalize on it, as it often presents an opportunity for larger investments for the institution, and can build member loyalty as it partners with them on a the achievement of a financial milestone.
In fact, when it comes to credit unions in particular, 71% of members say branch banking is their
preferred method
of interaction, with nearly half visiting once a month or more. This statistic is partly attributed to the unique relationships credit unions have with their members, and the highly personalized banking experience they've come to expect. In short, the
Credit Union Difference
is having a resounding impact on the staying power of the branch. credit union members are there for a reason; the human element that personalized member service provides and the comfort and security offered in familiar and localized relationships. Keep this in mind as you consider your financial strategies for 2018.