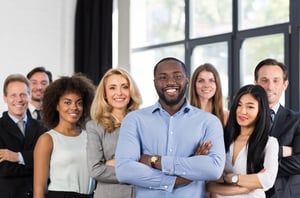 Credit union presidents and CEO's come in many forms, all with a variety of backgrounds and interests. But they all share a few common bonds: a real passion for their credit union, their desire to provide excellent and inspired leadership, and a love of their jobs. Many could likely find a higher paying position, or opt to run a larger credit union, but choose not to because of their own feelings of loyalty, legacy and a strong belief in helping those in their community succeed and achieve good financial health. While they might not all have Masters in Finance or a degree in Business Management, many have created an atmosphere in their credit union that is engaging for members and employees alike, is personable, productive, efficient and overall, a great place to work.

Take David Ritch for example. He is the current CEO of Tri-Town Teachers FCU in West Port, Connecticut. The credit union is very near and dear to David, who became a member when applying for a student loan before going to college. He has been associated with Tri-Town for 35 years at this point, and says the credit union has been a part of more than half his life. The well-being of Tri-Town is extremely important to him, and there have definitely been some shaky times. Back in 2007, their credit union, a small one with only one branch, 4 employees and 2,121 members, was doing well, enjoying and maintaining a "thriving net worth ratio over 14%." However, when the financial crisis of 2008-2009 hit, this quickly fell to 7% and in a period of 2 years the credit union lost $300,000 in assets. Fortunately, due in part to the cushion of a 14% net worth ratio, and in large part to his ingenuity, their credit union survived, while others did not. Quickly capitalizing on the financial frustrations of his members with their other investments, and rate gouging, he offered CDs with better rates and advertised Tri-Town as a "No Fee Zone." Once that got the ball rolling, they were able to further expand and offer other loan products, checking accounts and even credit cards due to the new asset growth.

Additionally, they looked for efficiencies where they could. By working with an innovative core processor and tech provider, they were able to streamline many banking functions, such as maintaining compliance and loan decisioning, all while still only having 4 employees. The technology allowed them to offer relevant mobile banking tools and keep up with current fintech, helping to maintain their member base. Today, Tri-Town Teachers FCU has remarkably more than doubled its net income per full-time employee, up from $13,248 in 2007 to $34,706 in 2017. The end of 2017 also saw another remarkable occurrence - they hired their 5th employee. Its this type of strong leadership and personal investment that illustrates the CUMovement so well, and makes it easy to understand why credit unions inspire loyalty.

Another extraordinary example of leadership is Laura Aguirre of Hawaii First FCU. The CEO since 1992, Laura rose through the ranks by working hard and facing obstacles head-on. Her credit union is on the smaller side, with $40 million in assets, but is also recognized as a low-income designated credit union. Though she is successful now, she is still humble because she knows what it is like to struggle. At one point early in life, she was having to live out of her car until a counselor at a job placement agency went out of his way to help her. It changed her life forever, and she considers him her hero. She believes everyone can be a hero to someone, and looks daily for ways to make a difference, and pay it forward. She has established child care at her office so parents can continue to or return to work. She has also established community resource centers around the city to give back and make a difference. Examples abound of great credit union leadership. Credit unions inspire loyalty partly through exceptional member services, and often are the ones that help their members when others aren't willing. It's not surprising that the CUMovement draws out the best in all members, whether you are the CEO, a service provider, compliance officer or member.
It's simply the Credit Union Difference.
Read our Pacific NW Ironworkers FCU Case Study for additional examples of inspirational leadership and best practices: