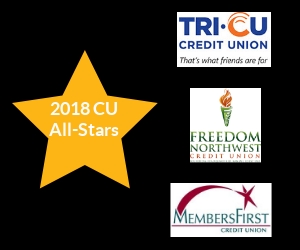 2018 was a prosperous year for credit unions across the United States, and FLEX credit unions were no exception. Over the course over the year, our clients have made tremendous efforts to implement resources and services that provide more value and improve member experience. Three credit unions really stood out, and we are excited to share their achievements and successes from the past year. Here are our "Credit Union All-Stars" from 2018.
MembersFirst Credit Union - Decatur, Georgia
Since 1953, MembersFirst has partnered with healthcare systems and school districts to further their commitment to helping those in their community. This credit union has 14 locations and over 35,000 members. However, President & CEO, Terry Hardy, notes that their size doesn't prevent them from building relationships with their members nor does it impact their efficiency. Case in point, with only full-time 84 employees MembersFirst averages 417 members per full-time employee, well above the national average. MembersFirst was able to originate $45 million in loans year-to-date and came in with more than $237 million in assets for 2018. With a net worth ratio of 11.57% we can only expect strong and sustainable continued growth for this credit union in the year to come.
Freedom Northwest Credit Union - Kamiah, Idaho
Founded by a group of loyal volunteers, Freedom Northwest Credit Union has come a long way since its humble beginning back in 1963. Freedom Northwest continues to manage their growth, lending, technology, and member advocacy to improve the quality of services they provide to members. CEO, Scott Garrett, says, "Our strength allows us more independence, more FREEDOM….which translates into personalized, sensible, and local lending decisions for our members!" Last quarter Freedom Northwest was our most efficient client with an efficiency ratio of 65.07%, this places Freedom Northwest in the top 5% of all credit unions nationally. Add to this that Freedom Northwest was able to originate nearly $40 million in loans year-to-date while keeping their operating expense to income ratio at a low 53.25%, signifies that efficiency creates sustainable income. In 2019 this credit union will surely continue their growth and improve their industry leading strategies in fostering the best possible member experience. Impressively, Freedom Northwest has grown from $107 million in 3Q17 to $147 million in 3Q18 while only adding 871 new members (7,212 total members).
Tri-CU - Kennewick, Washington
Tri-CU was initially founded to address the financial needs of electricians and their families. Since its founding in 1969, this credit union has grown to serve anyone living or working in Benton or Franklin County, Washington. Their founding philosophy is to help the "common person" achieve their financial goals and CEO, Doug Wadsworth, continues to lead by that standard today. With just over 5,500 members, Tri-CU has come a long way since its inception. Over the last year they have thrived, granting more than $11 million loans in 2018 while maintaining a strong net worth ratio of 11.63%. As a small credit union with $42 million in assets and 15 employees, Tri-CU doesn't act small with $25,423.00 of net income per full-time employee. Doing more with less is the definition of efficiency and with an ROA of 0.90% Doug Wadsworth and his team understand what it means to be efficient. In the New Year, Tri-CU will continue their commitment to providing the products, solutions, and services that their members need.
These three "Credit Union All-Stars" went above and beyond to provide new and innovative solutions for their members last year. Commitment to quality member service and experience is a key driver in their success, but improvements to technology and integrations played a role as well. Members of all ages have shown their affinity for solutions like mobile banking, digital lending and digital on-boarding that are quick and convenient, which best suit the average member's busy lifestyle. In 2019, the most successful credit unions will be those that integrate the cutting edge technologies that members want, while continuing to provide that high level of service and commitment that credit unions traditionally deliver.