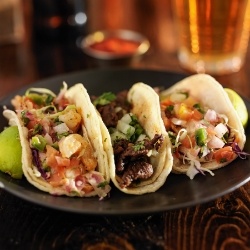 Taco Tuesday has been a "thing" since the late 1980's, and it certainly has maintained its stronghold in the restaurant business, even seeing a dramatic increase in popularity after the 2014 Legos movie. A new generation of taco fans are asking moms and dads to make it a staple for Tuesday night dinners nationwide. But perhaps what has propelled Taco Tuesday into a phenomenon for generations to come is the same technology that has changed the face of banking: The mobile phone.
Two things are certain about the generation shaping changes in our economy. One, millennials are obsessed with food. And two, they are also obsessed with their phones. So it is no surprise that it didn't take long for generation Y to start filling social media feeds with photos of the food they eat. Millennials are known to spend their money on good food, at independent restaurants that feature organic, locally grown, hormone and antibiotic-free fare. There have been numerous studies surrounding this generation's love of high quality food, and it has not gone unnoticed that they also love to post pictures of the food they are served, or have cooked themselves, to social feeds. So when you have an entire day that people have coined "Taco Tuesday" every week, 20 and 30 somethings across the U.S. are quick to snap the picture of the perfect stone ground tortilla, stuffed with cage free chicken, kale, organic tomato and corn salsa, with a drizzle of goat cheese dressing, hoping to one-up their peers' taco choice of the day.
If a meal isn't Instagrammed, is it even worth eating?
Much like Taco Tuesday, millennials are anxious to use their phone to whatever capacity available. And taking a picture of a check and depositing it remotely is the perfect example. And the cooler the mobile app is, the more likely you get that thumbs up from younger members. A millennial would ask, "If a bank or credit union doesn't offer mobile banking, is it even worth opening an account there?"
Don't think just plain old ground beef tacos for this generation... grass fed Angus steaks are the way to capture their attention. Pair your offering with a craft beer, not the lite beer with a lime their parents consumed. Go beyond the standard car loan, and offer a mobile lending experience they are sure to tweet about. Look to your credit union core technology to provide a mobile banking app experience with integrated apps. SNL Financial estimates that sixty-one percent of millennials told researchers they would be willing to switch financial institutions in order to obtain features they were currently missing. Credit Unions would benefit from offering feature rich products worthy of gen Y's attention and social bragging rights.