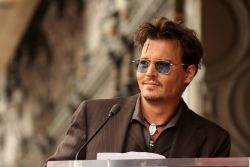 Remote Deposits and the Check 21 Act have revolutionized banking. Johnny Depp has revolutionized the characterization of quirky movie roles. To have a little fun today, we dive "deep" into the commonalities of the famous actor and credit union mobile banking solutions:
The Number 21

The Check Clearing for the 21st Century Act (or Check 21 Act) is a US federal law enacted on October 28, 2003, and took effect one year later, on October 28, 2004. It allows the recipient of a paper check to create a digital version, thereby eliminating the need for further handling of the physical document. It paves the way for credit unions to save billions of dollars and increase the speed in which checks are processed.

21 Jump Street is an American police procedural television series that aired on the Fox Network and in first run syndication from April 12, 1987, to April 27, 1991, with a total of 103 episodes. It launched the careers of such greats as the aforementioned Johnny Depp, Holly Robinson Peete, and Richard Grieco.


Scissors

Thanks to Remote Deposits, credit union members are able to utilize their scissors more often, by cutting up the checks they would have otherwise deposited at the physical branch (after a recommended waiting period, of course, to ensure the check clears). And more are doing so every year.

Many Americans are taking advantage of mobile remote check deposit. In fact, according to a recent American Bankers Association (ABA) survey, one in eight respondents used remote deposit in the past year. Among the users, 80 percent deposit a check remotely at least once a month, and 23 percent use it twice a month.



Edward Scissorhands was Directed by Tim Burton in 1990 and starred a freakish looking Johnny Depp, with blades for fingers and a love for cutting hair. The movie sparked a romance and brief engagement between co-stars Depp and Winona Ryder.

He even got a tattoo -- "Winona Forever" -- to commemorate their love. Following their breakup, Depp altered the ink to read "Wino Forever."




Chocolate

According to quora.com, just over 80 percent of the American population eats

Chocolate

. According to the American Banker Survey previously mentioned, just over 80% of mobile banking consumers in the U.S. use remote deposit. Johnny Depp starred in both Charlie and the Chocolate Factory and the 2000 drama Chocolat. Coincidence? (Yes...)


Appeal

The adoption of RDC has been driven both by consumer demand and banks/credit unions' desire to retain customers. With the increasing appeal of mobile banking, a customer or member's willingness to switch financial institutions in order to receive this service increasingly makes Remote Deposit a competitive necessity.

Also known for his appeal to women, Johnny Depp has twice been named the "Sexiest Man Alive" by People magazine in 2003 and 2009.