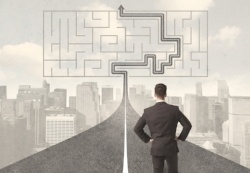 You're ready to begin a credit union core conversion to achieve better efficiency and integration. You know that the process must be performed with near perfect execution, otherwise you run the risk of negatively impacting members. A seamless core conversion is possible. Here is a guide that gives you the best chance at reaching perfection.
STEP 1: ASSEMBLE THE TEAM
A team of internal experts that represent every business and transactional segment should be formed. The team should consist of individuals who are not afraid to share ideas, and have a good working knowledge of the aspects of the of your credit union data processing system their department uses. Be sure to designate a strong team leader who is able to weigh risk versus value and who is not close-minded. Plan on meeting once a week at a designated time and set clear cut expectations.
STEP 2: ANNUAL CORE SYSTEM REVIEW
Analyze what you have first before embarking on a search for a new core. Ensure your core system review includes not only pieces that work well, but pieces that are not performing up to par or are entirely missing from your solution.
STEP 3: CREATE A WISH LIST
Your team should develop a detailed spreadsheet that acts as a wish list of desired improvements, and also identifies the roadblocks they face in their daily workflows. Be sure your wish list addresses the demands of your member base while staying in line with the goals and mission of your credit union.
STEP 4: POTENTIAL VENDOR LIST
When embarking on a credit union core system review, it is crucial to not over-extend your search. Instead select a few vendors that you have an initial attraction to - the first impression a vendor makes based on their sales representative, website, and reputation in the industry. Based on the size of your credit union, its focus, budget, needs and wants, the first impressions made by core providers' stated missions, websites, or representatives can quickly help you narrow the field.

Related article: Core System Review: From Speed Dating to Marriage
STEP 5: DIG DEEPER INTO YOUR NARROWED CHOICE OF VENDORS
Look into their websites further. Designate someone on your team to research their C-suite executives. Look further into the length of time in the industry and signs of continued growth. Issue an RFP to get the more in-depth questions, as they relate to your wants and needs, answered.
STEP 6: FIRST ROUND OF ELIMINATIONS
Time to take the research the RFP responses and narrow the field further to 2-3 choices.
STEP 7: DEMO TIME
Now is not the time to sit back and watch demos. Every team member should come prepared to ask questions of each vendor.
Related: Get a list of the top questions to ask during a core system demonstration
STEP 8: NETWORK
Time to leverage the credit union difference and reach out to your peers. Have every team member reach out to different credit unions and their corresponding department peers in that credit union who use your narrowed choices of technology partners. Ask a lot of questions and document the responses to review at your meetings. Be sure to ask how easy the core provider was to work with to ensure a successful implementation.
STEP 9: MAKE THE FINAL RECOMMENDATION
By now, your team should have a pretty clear cut winner, or at least have the field narrowed to two strong contenders. Deliver the information on the winner(s) to all executives for board review and approval. At this point, pricing begins to play a bigger role, and your CEO may be ready to negotiate with the vendor and leverage the choices as appropriate.

STEP 10: CONVERSION BEGINS
Following these steps in your decision-making process should give you confidence that your chosen core processing solution will ensure your conversion is seamless. But there are still a few items you can do to prepare. Ensure you have clear leadership from within your credit union, especially on the technical and HR fronts. Being technically prepared is critical, but equally important is to make sure your employees are emotionally ready for the change, and are comfortable with it. This may involve some extra hand holding of long time employees who are not comfortable with technology to begin with, and extra training for all staff.
MAKE IT FUN! No doubt your chosen technology partner is excited to get you converted and hit the ground running, and can help make the process smooth for employees. But why not plan a kickoff party, or bring in lunch during conversion week with different themes for each day? "Member Service Monday" can feature a lunch session showing the new member services features you gain with the core conversion. T.A.C.O. Tuesday can feature some local Mexican fare as the team leader "Teaches About Core Objectives." Don't forget to do a little something extra special for the internal review team that made it all happen for you, and ultimately, your members!