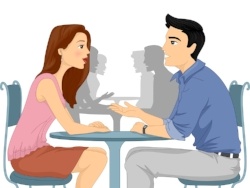 A Scientific American article entitled "Speed Dating and Decision-Making: Why Less Is More," details how being confronted with a large number of choices can make it harder for people to make good decisions. Research has shown that our decision-making system breaks down when the human brain is confronted with too many options. Not only does this apply to choosing the right partner for life, but is applicable in the business world as well. When embarking on a core system review, it is crucial to not over-extend your search, instead select a few vendors that you have an initial attraction to, and then do your due diligence to dig deeper in making your selection.
The idea behind speed dating is spending a very short amount of time (usually around 3 minutes) in narrowing a large field of potential suitors to just a couple. These few will move on to the next round and have a more in-depth session, or a date, to really get to know. It relies on first impressions, from looks, basic likes and dislikes, occupation, etc. In the credit union world, this translates into the first impression a vendor makes based on their sales representative, website, and reputation in the industry. Based on the size of your credit union, its focus, budget, needs and wants, the first impressions made by core providers' stated missions, websites or representatives can quickly help you narrow the field.
Once you have chosen a few candidates who have piqued your interest, it is time to get to know them better. Spend time with your candidates, this is the time to ask deeper questions. In dating, these questions may surround family, religious values, career and life goals. If you are trying to move on to the next stage of your life and eventually meet someone you can start a family with, you may uncover in the dating stage the person you were initially attracted to doesn't have much inertia to move out of their parent's basement or spends all their earnings on video games. Knowing a person's maturity when it comes to life and basic financial matters is no doubt something you want to uncover before deciding to marry.
When considering a credit union core conversion, the next steps after narrowing your search to just a few vendors are to dig deeper than their websites. Who are the C-suite executives? What are their backgrounds and experience? Does the vendor have low employee turnover? What is the strength of each vendor's financial position? Have they consistently shown maturity over the course of their business, this can be demonstrated by growth and innovation? Have they invested in themselves and their product offering?
Just as in personal relationships, the relationship you have with your credit union core system vendor starts with trust and transparency. Ask the difficult questions now so there are no surprises once you have signed and commitment.