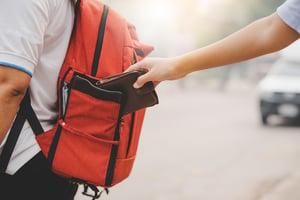 Mobile payments are making person-to-person transactions incredibly simple and efficient. With a few clicks of an app, members can pitch in on a birthday gift, pay their landscaper, or check out at the drugstore. With the increased demand, there are plenty of providers popping up to meet it but not all are created equal. Some apps require you to hold funds in the app, while others link directly from bank account to bank account. While these payment channels may be highly convenient, it's important to educate your members on ways they can make sure their money goes where they want it and that they receive the money they are owed.
Tips to Make Smart Mobile Payments
Be cautious about who you send payments to. If you're buying something from an online marketplace, like concert tickets or a piece of furniture, do your due diligence in making sure the transaction seems legitimate. Using mobile payment services with people or businesses you know and trust is the safest way to protect your money.
If available, have the recipient send you a request for payment. By asking them to do this, you can be sure you are sending your payment to the correct recipient. Some apps, like Venmo, offer the chance to authenticate the recipient's information by requesting the last few digits of their cell number.
Double check your transaction before completing it. With so much variation in mobile payment apps, it's wise to look back through all of the details you've entered to make sure you didn't mistype anything, like the recipient's information or the transfer amount. Most apps don't have an option to recall the money once you submit the request, so reviewing the details you've entered is always a good call.
Know how quickly the transaction will finalize. Not all mobile payment transfers will be immediate, some taking a few business days to clear. If you're expecting to have funds available immediately, ensure your app supports that. Mobile payment options provided by your financial institution, like Zelle, will link your account and the recipient's account so the transfer of funds can be verified immediately.
Credit Union Mobile Payments Using Zelle
Using mobile account-to-account payment apps, like Zelle, that are provided by your credit union can help members feel secure that they are making a legitimate payment to a legitimate recipient. They also offer some protection as the federal Electronic Fund Transfer Act (EFTA), enacted in April of 2019, applies to these transactions and they are compelled to investigate issues if they arise. The best mobile payment apps should have strong built-in protections to detect and limit errors, unauthorized transactions, and fraud.
FLEX has partnered with Zelle® to offer person-to-person payments directly from within the FLEX mobile banking app.
This integration provides an innovative, mobile-first payment platform that will provide an enhanced member experience, offering a fast, safe and easy way to send and receive money with people and businesses they know and trust - typically within minutes!
Download the eGuide to learn more!