7 Surprising Fraud Facts Your Credit Union Should Know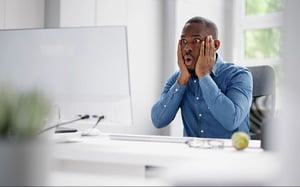 While fraud is certainly a constant risk for any credit union and its members, there are certain factors that have recently exacerbated what was an already distressing problem. Taking an unprecedented global pandemic and combining it with both a challenging economy and (for a time) record-setting inflation is a recipe for disaster regardless of how you look at it.
Fraud is a big issue, but what are the actual numbers? Here are 7 eye-opening credit union fraud statistics that are sure to motivate you to take action.
Let's take a look at:
7 Facts About Fraud
1. In 2022, Over 70% of All Financial Institutions Lost Over $5,000 to Fraud
Keep in mind that this isn't just big banks--this is ALL financial institutions, including credit unions, which are often targeted because there is a perception that they lag behind their competitors in terms of technology and cybersecurity.
2. Community Banks and Credit Unions See the Second-Highest Fraud Levels
This is according to the same study referenced above. Credit unions come in at 69%--second only to online lending or pure-play lending groups at 75%. Another study confirmed that this is a fraud rate increase of more than 70% in 2022 alone.
3. Average Losses Have Reached Over $500,000 for Most Victims
In 2022, it was estimated that about 43% of financial institutions that fell victim to fraud suffered losses between $500,001 and $1 million. Another 24% saw their losses rise to between $1 million and $10 million.
4. Very Few Financial Organizations Actually Recover Everything Lost to Fraud
Out of all those who responded to a survey, just 5% say that they were able to recover every dollar they last to fraud. About 41% say they recovered between 51% and 75%. With a mere 9% managing to recoup just 1% to 25% of their losses, the possibility of a complete loss is significantly reduced, but these distressing figures must not be underestimated.
5. Identity Theft is a Fraud Leader
Due in large part to the COVID-19 pandemic, it shouldn't come as a surprise that one of the leading causes of financial fraud has been identity theft. In fact, it was estimated that there have been $43 billion in losses due to identity theft alone.
6. Synthetic Identity Fraud Racks Up Over $4 Billion in Outstanding Balances
According to a report from TransUnion, synthetic identities have accumulated a staggering $4.6 billion in outstanding balances. These balances are comprised of personal and auto loans, as well as retail and other credit cards. This represents a significant surge from 2020 to 2022, with an impressive 27% increase.
7. The Share Insurance Fund Lost $146.8 Million Due to Fraud-Related Losses
Over the past five years, the NCUA Share Insurance Fund has suffered substantial losses, totaling hundreds of millions, as a result of fraudulent activities.
Fraud Reporting Resources
If you come across any fraudulent activities within your credit union, we urge you to use the following resources:
The NCUA's toll-free fraud hotline: (800) 827-9650
NCUA fraud hotline online form
FTC fraud reporting form
Your New Tool: Alloy's Role in Credit Union Fraud Prevention
The sector you're in doesn't matter. No one is immune to the malicious intentions of fraudsters, and the damages caused by fraud are increasing year after year.
Therefore, it is up to credit unions to do more to keep their members' assets safe. Of course, they need to do this without harming the member experience, which is where solutions like Alloy—an identity-decisioning platform—can help. FLEX has recently partnered with Alloy to help credit unions both enhance member onboarding and to mitigate fraud risk. This collaboration enables your credit union to embrace the advantages of our digitally advanced financial landscape while minimizing any potential drawbacks.
Reach out to the FLEX team today for a conversation about Alloy or to dive deeper into your credit union's specific needs, such as FIS ID authentication. Otherwise, click the button below to learn more.