Fraud on the Rise: 3 Tips to Protect Your Credit Union's Data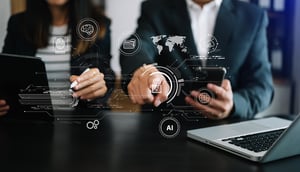 If a chain is only as strong as its weakest link, for most credit unions and smaller financial institutions, that vulnerability rests in the same place: their data.
Members flock to credit unions because of the personal experience they crave. They want that level of care and attention to detail they can't get from a bigger bank. The easiest way to shatter that impression—likely forever—is to allow their data to be compromised in the form of a breach.
Why Data Security Matters
Educate Your Members & Employees
Ensuring the security of your credit union's data begins with making ongoing education a priority for both employees and members. It's essential for individuals to be able to recognize and avoid phishing attempts, backdoor attacks, and other cyber threats. Surprisingly, this knowledge is not common among everyone.
Therefore, it is crucial to educate your employees and provide helpful content for credit union members to raise awareness about data protection and cybersecurity.
Employ ID Verification Tools
Another effective way to enhance the security of your credit union's data is through using identity verification services. With ID verification, you can verify that a member is who they say they are by leveraging various signals that help "prove" their identity.
This can involve requesting personal information such as social security numbers that only the member should know, as well as analyzing certain behavioral data. Employing these measures can effectively prevent fraud during the onboarding process, especially when individuals attempt to apply for a loan or access new services.
Establish a Cybersecurity Policy
Establish a cybersecurity policy to safeguard your credit union's data and ensure the highest level of security. Include clear consequences for policy violations.
This will help credit union employees understand their personal responsibility, not only in terms of keeping data safe but in terms of how they engage with emails, what sites they can and cannot visit, and how to safely use computers and mobile devices. This helps promote procedures and best practices for credit union employees to follow.
Safeguarding Success: FLEX's Ongoing Mission to Protect Your Credit Union from Fraud
The team at FLEX understands that combating fraud in all its forms and securing your data is forever a top priority. That's why we partner with Alloy—an identity verification platform—to enhance the experience for your credit union members while maintaining security.
If you wish to speak to us more about securing your data, contact our team of experts today. Otherwise, click the button below to learn more.