Choosing a Partner that Can Deliver When the Unexpected Happens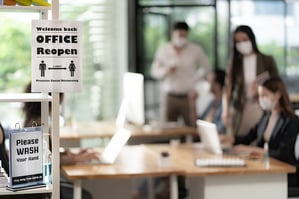 As 2020 began we, at FLEX Credit Union Technology, were not predicting a health crisis. In fact, a health pandemic and its impact was not even a conscious thought. As we look back on three quarters of business, we are amazed at how unfamiliar, yet normal 2020 has felt. We have always pointed to the virtue of being able to pivot quickly as a company and deliver technologies that meet our credit union customer expectations and their members needs. With over 260 credit union customers running FLEX in 47 states, our exposure and perspective to the health crisis has been deep and layered.
In choosing a credit union core processing partner that can deliver when the unexpected happens, it may be best to simply share with you our experience. COVID-19 required that FLEX as a company quickly pivot and adapt to our customers needs. As this was an unprecedented event, we made the decision to reorganize development projects in order to assist credit unions with changes in supporting and delivering technology to members. The following development projects have been completed during this time:
Advancing Loan Due Dates

: This feature was added to the FLEX credit union software system and made available to all customers at no cost on March 27, 2020. This feature allows credit unions to advance loan due dates based on loan type, payment type, open/closed end loan, number of frequencies (minimum due date/set due date to include delinquencies), grace days.

FLEX already had the native ability within the core system to modify loans based on skip-a-pay, payment reductions, interest rate reductions and troubled debt restructuring (TDR).

Regulation D: The Board of Governors of the Federal Reserve System issued an interim final rule amending Regulation D, Reserve Requirements of Depository Institutions, that removes the six-per-month limit on transfers from savings deposits, as defined in the regulation. The interim final rule contains FAQs that also appear on the Federal Reserve Board's website, which will be updated as needed. The interim final rule was effective on April 24, 2020. FLEX guarantees compliance as a part of the base software agreement with each credit union. This means that changes to regulations such as Reg D are programmed and released within NCUA's guidelines. In this case, the Reg D configuration was already a part of the FLEX credit union system and no additional action was required for our credit union customers to comply.

Card Processor Mandated Migrations

: As COVID-19 unfolded so did the consolidation of card processors. The acquisition of First Data and Elan by Fiserv and WorldPay by FIS put pressure on credit unions to move their card platforms during COVID. FLEX established a policy to add card support for these mandated migrations, understanding credit unions could be left running unsupported card platforms.
Zelle Integration: Understanding that digital payment options were increasing, FLEX completed development in adding Zelle as an integrated solution within its mobile app. This allows members to use Zelle to send, split or request money without the need for multiple apps. The integration also offers browser support for Zelle within the credit union's internet banking platform.

External Account Management

: Moving money between financial institutions has become increasingly popular and necessary following the health crisis. The FLEX core processing system allows members to transfer money between financial institutions natively, and without a third-party, from within both the FLEX desktop banking solution and the FLEX mobile app.

Cash Machine Integration

: Knowing that in-branch requirements and behavior has changed, FLEX added built-in integration with ITM manufacturer Hyosung. This served to strengthen the already existing direct integrations with cash recyclers, cash dispensers and coin dispensers. Within the FLEX credit union core processing system, credit unions have multiple in-branch member automation options.
FICO® Scores: Driving member engagement means offering solutions that competing consumer finance companies provide, especially in light of COVID-19 and its ramifications. We did not want to allow the financial industry competition to maintain competitive advantages over our credit unions. Add to that that 90% of top U.S. lenders provide FICO® Scores when making lending decisions. Our credit unions as of March 5, 2020 are able to help their members understand credit risk as lending decisions are made. FICO® Score Open Access is offered natively from within the credit union's online banking and mobile app product suite.

Card rewards/rebates

: FLEX added functionality to allow debit and credit card reward and rebates from within the core system. This allows credit unions to provide cash back incentives, out-of-network ATM rebates, etc. Popular consumer credit card companies are famous for their cash back rewards. FLEX credit unions can compete and provide daily cash back views from within the FLEX mobile app, rebate and reward summaries on member statements and more.
Enhanced eSignature Options: FLEX had already integrated eSignature within the core system framework. This includes not only the ability to setup and queue documents for eSign delivery, but FLEX also automatically pulls back completed/eSigned documents and archives them within the member account and sub-account structure. COVID-19 based enhancements include out-of-wallet question verification, attachment requests (such as pay stubs for income verification), etc. The velocity at which many of the electronic services have moved, we felt it was necessary to add functionality and security to make this process safe for both the member and the credit union.
MessagePay Integration: To enhance loan payment options, FLEX completed integration with Message Pay to allow online banking, mobile apps, logins and passwords. MessagePay allows members to pay through the simplicity of a text message.

Digital Onboarding

Integration

: FLEX partnered with Digital Onboarding, a digital engagement platform that makes it easy for credit union members to adopt additional products and account-related services. By leveraging Digital Onboarding within FLEX, credit unions can provide members with personalized emails, SMS messages, and step-by-step digital guides to simplify the adoption of services like online and mobile banking, direct deposit, eStatements, and much more.
Many more areas could be discussed, including additional development enhancements to the FLEX core processing system. However, the above information should provide you with some idea as to what you should look for in a credit union core vendor. Specifically, the ability to adapt to unforeseen market changes or to pivot when new technologies and methodologies are required. We may not always have an idea of what the future holds, but the right partner can make a significant impact when the unexpected happens.