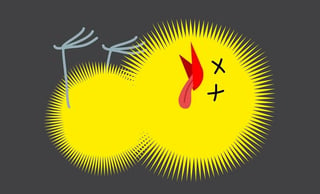 It's no secret that Twitter has struggled to maintain traction in the competitive market of social media. The popularity and use of their social media platform, where you can post - or tweet - 140 character messages, has become stagnant after getting off to a great start. Internally, it has had layoffs to slim down staff in an attempt to refocus and reinvigorate its growth. More recently, the company has seen turnover even at the highest levels, and at one point looked into options for selling the company. What happened?
Complacency and the Unwillingness to Adapt
Many companies don't have time to push a broken cart for long, and started to lessen their commitment to tweeting, while consumers grew bored with the product, favoring features that Instagram, Facebook and Snapchat were introducing. In an effort to become more relevant and competitive, in 2016, Twitter, seemingly reluctant, changed up their platform and rolled out an updated algorithm, designed with the intention to capture and hold their users' attention for longer periods of time. They began presenting users with the most popular tweets when they initially logged in and offered the ability to retweet and like your own content. This option increased the likelihood of a tweet being seen - The lifespan of a tweet was only around 18 minutes - and helped to increase exposure and build followers, which is particularly useful in a marketing capacity.
Too little too late? This move to change or adapt to the latest in social media trends did little to increase the number of active users year over year, and the impact is taking its toll on the company ranks. In mid-2017 it was reported that over a million Americans quit Twitter in just three months. The average engagement rate for brands on Twitter is now 0.049%. That's lower than the average banner ad click-through (0.5%). Parse.ly reported that Twitter paled in comparison to Facebook or Google as a traffic source, even being beaten out by Yahoo!
Adapt to new Credit Union Technology to Stay off the Sinking Ship
Far from alone in this ever-changing and the fast-paced world, other industries have found themselves in the same boat, needing to adapt to stay afloat. Credit unions have to adapt to the changing expectations of their members and search for ways to stay up-to-date with evolving fintech in order to stay competitive. When someone is choosing a new financial institution, historically a credit union isn't perceived for its conveniences and modern applications. In fact,
nearly 50% of Americans think banks offer more products and services than credit unions.
The initial appeal of belonging to or joining a credit union tends to be more about its rich history. The credit union difference and personalized attention to member service has also long been part of its appeal.
However, as member demographics are shifting, with
Millennials
and Gen X playing a more prominent role in the industry, credit unions have found they need to step up their technology game in order to stay competitive and attract new members. Many credit unions have seen success with incorporating some of the latest fintech capabilities, offering competitive member services through new technology that is on par with the offerings from even the biggest banking entities.
The truth is that credit unions offer checking, savings, home equity loans, mortgages, auto loans, credit cards, student loans, mobile & online banking, health savings accounts, IRA's and more. So what does a bank offer that credit unions don't? Higher fees comes to mind.
Credit unions have
embraced mobile banking
, and invested in open core technology that allows them to offer the best and most current technology that is out there. Some are even dipping into biotechnologies for added security measures. They boast mobile apps where members can perform
secure RDC
, view real-time account information, lock cards with remote card controls and apply for new loans. Credit unions have achieved a unique success - they have adapted to the new convenience-driven world and embraced the latest technology, while still maintaining their initial appeal and keeping their members, both new and old, happy.
Credit unions willing to embrace new technology have not only stayed afloat but have also attracted new members. In fact, the total number of credit union members grew 4% in 2017, from 107.5 million to 111.5 million. Through the use of powerful technology, and the integration of digital banking strategies, credit unions are poised to stay relevant and a viable option for even the most tech-savvy member. While the bird is not dead, Twitter is definitely facing an identity crisis that may be too much to overcome. Take a lesson from the one-time social media giant and don't wait until it's too late.