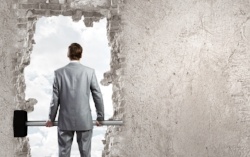 Your loan officers perform a complex and critical function for your credit union. They must be experts on the full suite of loans you offer, know qualifying requirements and assess the financial condition and overall risk of the applicant. Their work, if done properly, generates significant revenue for your organization, so it's important to give them the support they need. Here are five common hurdles CU loan officers face and how you can help eliminate them.
Signing the right forms. Your CU likely offers a range of loans, each requiring specific forms that relate to the type of loan. Those requirements change enough over time that it can be daunting for a loan officer to keep current. Your credit union lending software should allow for customization or grouping of forms per loan type. This takes the stress away from loan officers needing to remember what forms are required for each loan.
Override Required. In many credit unions, there are fail safes in place to protect the CU from loan officers granting loans without manager approval. This is a smart way to protect the integrity of the institution, but can also create bottlenecks in the process if the approving manager is not on site at all times. Your credit union lending software should allow for remote overrides. This enables loan officers to submit the override request when the proper authority isn't in the branch, and the override can be approved remotely from another branch.
Accuracy. Errors throughout the loan process are becoming a thing of the past. Lending software, electronic documents, and e-Signatures have simplified the process... but there is still the potential a loan officer overlooks certain information. Your loan origination system should allow management to make specific fields required before proceeding to the next step in the workflow. This can help address missing information in the moment, instead of discovering the issue later in the process and asking the member to return to the branch.
Signatures. Signatures have long been a bottleneck in the lending process. Especially when your member isn't present. Don't inconvenience your member by asking them to come into the branch from 9 to 5. Offering e-Signatures for loan documents can completely eliminate one of the most time-consuming pieces of the loan process. Not only will your members appreciate you respecting their time, but loan officers will spend less time chasing people to complete their forms.


3rd Party Add-ons. From pulling credit scores to emailing forms to be signed, 3rd party applications are a hassle and often require separate logins and passwords. This is an unnecessary hurdle in the process that can be easily streamlined. Invest in complete technology that is all-inclusive. If 3rd parties need to be involved, then they should be directly tied into the loan origination system and seamless to the end user.
Providing your loan officers with modern resources and technology that makes their job less cumbersome will increase efficiency and consequently boost the key ratio of loan originations per employee. The less time they waste on shuffling papers and filling in missing information, the more time they can spend on selling new loans. Advanced credit union lending software can be an invaluable tool to your entire loan division.