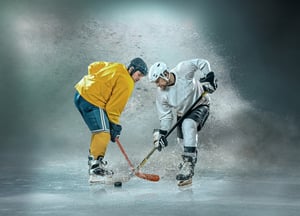 When it comes to digital financial services, it's game on. Today, credit unions of all sizes need a proactive, cohesive digital strategy that provides the right products, services, and best possible member experience. More than just storing documents on the cloud, financial institutions nee
d to digitize core processes and be better prepared for the future. Whether you are in the first quarter or the fourth, it's necessary to work overtime to stay competitive. APIs can get you there.
According to the Digital Banking Report by The Financial Brand, "The importance of innovation and developing new solutions that take advantage of data, advanced analytics, digital technologies and new delivery platforms has never been more important." APIs are very important in meeting these needs because they allow for faster development. They reduce the barriers to making changes and allow credit unions to enable more vendor integrations, enhancing member service and product offerings. Technology allows for more convenience and efficiency, while at the same time offering flexibility, which is a benefit to both credit unions and members. In addition, open banking APIs lead to expanding the ecosystem to include things beyond just financial services, which will fit a member's lifestyle better. The institutions that provide the best experiences overall will win out. Here are 4 ways the leaders in the industry approach APIs:
Front-Line Experience
APIs aren't just for your digital banking experience, but play a large role even in what is mistakenly perceived as the less-technical side of your business: in-branch banking. When a member is at the credit union to conduct business in-person, they generally want to be in and out as quickly as possible. The more efficient the member service representative can be, the better the experience for the member. Using APIs to bring multiple systems together into one platform means that the MSR can get information from multiple places such as checking balances, loan information, or credit card data with ease. The representative can also give better service as they have a broader look into the member's full situation and can better meet their needs.
Member Services Available Via Mobile
The digital trend is climbing as more and more members prefer to bank through digital channels. Mobile is now seen as the main branch by many consumers. According to Citi's 2018 Mobile Banking Study, a mobile banking app was one of the top three most used apps by Americans (31 %). It was only beat out by social media apps (55%) and weather apps (33%). Members want to be able to make investments, apply for loans and open new accounts, all from their smartphones. This trend will only increase, therefore credit unions need to continually be improving their technology and the services they offer to meet these needs. This can be done by using APIs to bring greater functionality via the institution's app.

Member Communication
Members look at a credit union as more than just a place to keep their money. They now look for extra services such as notifications when balances are low or activity is suspect- these notifications can be via phone, email or text. They want the ability to control credit cards remotely (related article: With Card Fraud Rising, Remote Control Debit Cards are a Must). Members also want to be able to interact with their credit union without having to enter the same information over and over. Loyalty from members will increase as members benefit from an omni-channel experience and save time when communicating about their accounts.
Verification Processes
It's inconvenient enough to forget your password... it's even worse if the process to recover it is difficult or takes a long time. Implementing two-factor authentication is a great example of API usage. This type of integration allows the credit union to send members one-time passcodes via text to verify their phone number. This protects the online account if a member needs a new password by verifying them more easily.
As a credit union, your season's schedule will likely be competing against other top ranked financial institutions, and APIs play a large role. The playing field is leveled as technology allows smaller institutions to offer services that are similar to much larger organizations. These features would have been much too costly to develop before the introduction of APIs. The difference will be in how creative a credit union can get in ways to bring systems together and make the member experience seamless. Step up your game plan and be in it to win it!