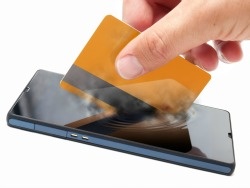 The payment technology industry changes like the wind with new players always working towards getting into the game. Whether it's driven by the phone carrier or financial institutions, new mobile banking apps and "mobile wallet" options are being developed in hopes of growing that market segment willing to trust their phones to also act as their wallet. And now the newest entrance to this market is expanding to more banks and credit unions.
It was announced this week that Samsung Pay is expanding to thirteen more U.S. banks and credit unions "in the coming months" – with the Discover card also being added at some point next year. Samsung Pay just launched in the U.S. in September but has quickly gained support.
Just like many of the others in the mobile payments industry, Samsung is going with the "gradual expansion" at first. Samsung Pay currently works only with the Galaxy S6/edge/edge+ and Note 5. Initial holdout, Verizon, also opened up the service to its customers a week ago.
We've discussed in previous blogs the marketing and security implications of the mobile wallet. As more merchants embrace this new form of payment, consumers will continue to follow. So just remember that it is up to issuing credit unions to convince their members to link their credit cards with all these mobile wallet accounts like Samsung Pay, Apple Pay, PayPal, Google Wallet, etc.
If you understand and educate your members on the world of payment cards, it's an opportunity to promote more services to your target audience and create new marketing strategies. As real-world use of mobile wallets continues to grow, now is the best time to evaluate your card management to ensure it's ready for what the future holds.