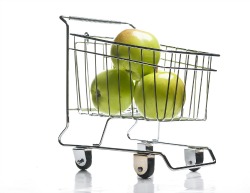 No doubt you have heard the latest buzz regarding Apple Pay. And perhaps your members have asked you about using Apple Pay, or other mobile wallets, as a new form of payment. Here's the secret: The implementation of Apple Pay (or any other mobile wallet) is literally in the hands of your members, and you already have the technology needed to "integrate" Apple Pay into your credit union - It's called a credit or debit card, along with some education.
Apple Pay is NOT an extension of your mobile banking app. It is Apple's mobile payment service that lets iPhone 6, 6 Plus, and Apple Watch owners make payments with their phones at point-of-sale terminals that are equipped to use NFC technology for contactless payments. They simply need to have the correct phone, download the app from iTunes, and create an account (using the credit card or debit card issued by your credit union). Incredibly easy!
The Apple devices wirelessly communicate with the point-of-sale terminal or PIN pad at checkout with a dedicated chip that stores the user's encrypted payment information. For iPhone 6 and 6 Plus, the user's identity and security is confirmed by holding their fingerprint to the phone, or the presence of their skin detected beneath the Apple Watch. This security is one key reason that many believe Apple Pay will be the leader in mobile payments. (See the article: "Is Apple Pay the Future Mobile Payments Leader?")
Apple Pay is not everywhere - by a long shot
Apple Pay and mobile wallets are only accepted by retailers who have contactless payment point-of-sale terminals. However, these NFC readers are installed in less than 10% of US merchants, as reported by Mark Hung of Gartner. As you can imagine, this will be a huge area of focus and growth for the credit and debit card industry.

What is EMV's connection to Apple Pay?
The movement for merchants to adopt EMV technology is being fueled by a policy change in chargeback liability that is requiring merchants to upgrade their point-of-sale terminals by October 2015 to avoid certain risks and liabilities. As a result, many retailers will be upgrading their point-of-sale terminals this year to include EMV and NFC readers.

Security is key
The fact that Apple Pay will require a fingerprint to complete a transaction will give your members the sense of ultimate security. Although history has shown that nothing really is 100% secure, merchants who upgrade to point-to-point encryption (P2PE) devices that support EMV and Apple Pay will remove the threat of stolen cardholder data. In addition, Apple's marketing and design teams have done a great job at putting the right pieces in place to create a sense of security.

Apple Pay keeps customer payment information private from the retailer, and creates a dynamic security code generated for each transaction (tokenization). Apple added that they would not track usage, allowing transactions to stay private between the customer, the merchant and your credit union.

Users can also remotely halt the service on a lost iPhone via the Find My iPhone service. On the Apple watch, the detection of a user's skin beneath the watch confirms the wearer is in fact the owner of the watch, through a PIN code entered when the watch is first put on. Coupled with technologies such as Remote Controls for Cards, Apple Pay will provide the card security that credit unions and their members have been looking for.

Apple Pay isn't the only game in town... just the most secure
Much of the above applies to members who own Android devices, as Google Wallet works in much the same way Apple Pay does. Microsoft also offers Wallet in conjunction with their Windows phones. The technology behind it all (NFC) is the same. The difference is in the app, the mobile phone, and some of the features the phone manufacturers provide. It is important to note that Apple Pay is the only mobile wallet offering tokenization security technology today.

Keep in mind when talking to members, these mobile wallets are 'out of the box' solutions supported by each manufacturer. Your members will need corresponding Apple, Google or Microsoft accounts to subscribe to these services.

To reiterate, the implementation of Apple Pay or any other mobile wallet is literally in the hands of your members. By providing your members with some basic information and instruction on using this new technology as part of your credit and debit card offerings, you can add credibility and expertise to the attributes they associate with your credit union.