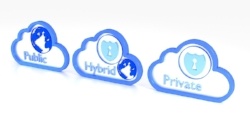 Before deciding to shift some of your operations to the cloud, it's important to remember that cloud adoption is an overall business strategy for your CU, not just a function of IT. For most, a credit union cloud solution is in line with the CU's overall business goals of increased efficiency and cost control, and its adoption will streamline many aspects of your operations. Once your cloud strategy is set, you have to decide what model of cloud will be best for your credit union.
Cloud computing has several service and deployment models which relate to how the cloud service is provided. These models include:
Private cloud: Operated solely for a credit union.
Public cloud: Shared by several organizations and available to any paying customer.
To decide what model of cloud is best for you, ask yourself these questions.
Are you okay with sharing storage space with other credit unions? Private clouds are going to ensure a higher level of security. Breaches of public clouds are more likely but your data is still maintained in silos separate from other businesses.
Is cost saving more important than added security? Some credit unions are willing to cut corners on security and will opt for a public cloud.
Are you willing to take your data offshore? Many public cloud services are located offshore in order to drive costs down.
There is another option... it's a hybrid cloud. You can combine your private cloud with public cloud functionality to find the package that best suits your needs. Some credit union cloud computing service providers believe that there isn't a one-size-fits-all solution. For example, you may want to keep your member data in a private cloud, but run your mobile banking and
eDocument
processing through a public cloud.
It really boils down to a question of security and how sensitive you believe your member data is. If member data security is a top priority for your credit union, then a private cloud is the most secure option for you.