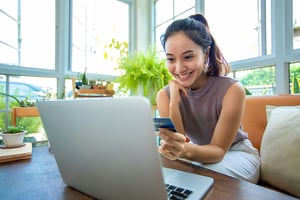 Open banking will support credit unions that possess a certain digital capacity. The most successful credit unions (CUs) are ones that utilize member data and provide real-time information, organized workflows, notifications, and alerts. Members seek convenience above all, and so these features should offer just that. Here are a few ways CU staff can increase the value of your services with open banking APIs.
1. Concentrate on Consumer Learning and Action Over Perception
It's important to focus more on what your member can do rather than what they see. For example, you may think account aggregation is a good idea, but in reality, it does nothing to help members solve their problems. Instead, it simply adds a more stressful setup and clutters the page. Sometimes less really is more, especially when it comes to data. However, using external data to retrieve post-transfer balances offers much more value, as the member can access external accounts and balances at a time when they truly need the information.
2. Examine Value When Measuring Success
Remember that the number of member logins or the length of session durations doesn't matter as much as the value they get when they're in their account. Open banking provides an extensive amount of data, which can conflict with a member's need for convenience and accessibility as they bank. This clash can cause serious problems as CUs try to develop open banking features that require more time and thought from the member, which will inevitably backfire on both the financial institution and the member. Just remember that the key question when determining value is: Does this feature get the member to the right place quickly and easily? If the answer is no, you may want to reevaluate your CU's open banking process.
3. Acquire Member Approval to Access More Data
Personal finance management tools in digital banking are often obstacles to members, requiring a great deal of time and effort. The truth is people don't want to do the work to obtain the insights they would get from these tools. So what's a credit union to do?
One way to prompt members and staff to embrace open banking is to provide these valuable insights. It's also beneficial to educate CU employees, so they have a thorough understanding of the system and can successfully help members access and use their shared information. For instance, your CU could proactively notify a member of an economical issue and advise them to make a transfer using your live chat feature.
4. Coordinate Digital Endeavors With Your Member Service Representatives
You should cover all your consumer-facing bases when implementing open banking, as it will help build memorable and dependable experiences for members. The biggest problem with open banking is that credit unions often focus too much on digital and forget about face-to-face interactions. Failure to address all aspects of the consumer journey will lead to abandoned members, poor technology practices in branches, and annoyed financial advisors.
Sometimes the problem boils down to the fact that your team isn't asking the proper questions. It's imperative for CU teams to consider why a member would make a trip to their local branch or start a live chat, and what they and the member desire from the communication. Overall, operating with a member-first mindset will allow your staff to provide comprehensive, methodized experiences on all fronts.
Final Thoughts
The most prosperous credit unions enhance their services and experiences by adding value with less data, measuring success through the convenience factor, acquiring more consumer data to offer more up-front insights, and focusing on both digital and in-person customer service.
Open banking is part of today's digital transformation of financial institutions, and credit unions must be ready to transform. Download our article from the 2022 Callahan Supplier Market Share Guide to learn more about how you can start implementing digital strategies in your credit union.
And if you need some extra help choosing technologies and member services, we can help! Download our FLEX Core Integrations eBook and see how FLEX can connect you to the financial services you want.