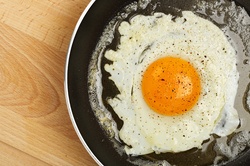 Do you remember that public service announcement from the late 80's, "This is your brain on drugs"? It's hard to forget, mainly because it was aired repetitively by the Partnership for a Drug Free America in 1987. Like a fried egg, we sometimes tend to over complicate the core, so much that we tend to 'fry' our brains trying to keep up with the pace of technology.
Technology advances rapidly, and credit unions and members are in a rush to implement and use the latest and greatest innovations. Having a core systems provider that is on top of technology trends and ready to integrate new features is important. More importantly, however, is having a trusted credit union core system provider that truly understands technology and innovation, and will implement applications that are ready for market that will not do more harm than good. Afterall, who likes over-cooked eggs?
Over the past 30 years the Partnership for a Drug Free America has created campaigns to raise awareness regarding the pitfalls of drug addiction, especially among teens. While there is no advocacy group for credit union core processing pitfalls, we can look to our peers and their experiences (both positive and negative) for help. Forming a support group can help you with more than 'Just Saying NO'!
Advances in credit union core technology have occured at a rapid pace and using those advantages, when they are ready for market, will aid your credit unions growth and member service offerings. Whether it is uniquely structured loans, mobile apps, remote controls for cards, or advances in the payments industry (mobile wallets and apple pay), the fact of the matter is, without the proper innovations in core technology, most of this would be impossible... or darn right painful... to accomplish. But there is something to be said about not burning-out your credit union's time, resources or reputation on new technology.
As you review your core system, don't be too turned on by the bling, and remember to look at the "core" of the core... the reliability, support, and the trust you have in your provider to implement the right technology, the right way, at the right time. Any questions?