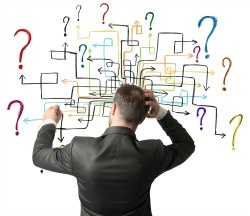 The 2015 Growth Strategy Survey reveals that banks are still trying to figure out the next big generation of consumers. How can credit unions move beyond a strong reliance on loan origination and take advantage of technology's role to beat the banks in today's marketplace?
The survey of both bankers and board members found that loan volume was the primary driver of profitability over the past 12 months for the institutions, according to 88 percent of respondents. But as digital use among customers has become commonplace, the respondents don't feel comfortable that their insitutions are ready to serve millennials. Traditional banks, which are run typically by baby boomers and older Gen X'ers admit that 70% of their directors don't even use their own bank's mobile channel.
It's easy to see why there may be a disconnect in trying to figure out what attracts the younger generation. The interesting news is that technology is finally a topic around the bank board table. The survey states that more boards are putting technology on their agendas. In fact, 45% say their board discusses technology at every board meeting, up 50 percent since last year's survey.
The financial industry is catching on that taking too much time to embrace technological advances is definitely a cause for concern. Only 18% of the banks surveyed offer Apple Pay, but respondents are worried about competition from Apple. What's more revealing is that 63% "don't think our bank is ready" to offer mobile wallets to their customers.
So what is on the agenda of many financial insitutions for 2016? More than three-quarters indicate plans to invest more in technology within their branch network. What should be on your credit union's agenda for 2016? Technology! The survey did report that more than 80% of respondents offer mobile apps which include bill pay, remote deposit capture and account history. Does your credit union have an app that can compete? Less common features in existing apps are peer-to-peer payments (28%) and merchant discounts and deals (9%), these services are increasingly offered by non-bank competitors.
FLEX can help you tackle your 2016 goals and beat banks to the punch in technology offerings for your members. Credit unions should demand technology that runs smoothly and meets their needs for everything from back office tasks to branch automation. However, as this survey indicates back office automation is only part of your objective. A solid credit union technology strategy needs to include the member service channel, especially deliver tools that people increasingly are demanding.